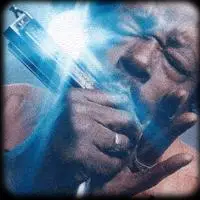 Carey Bell was a Blues harp master whose technique incorporated the wild flares of Little Walter and the intricate melodic style of Big Walter 'Shakey' Horton. His long career as a side-man has been punctuated by solo albums and spells as a band-leader, sometimes sharing the stage with his son, the guitarist Lurie Bell.
Born and raised in Macon MS, Carey Bell Harrington taught himself to play the harp and when his Godfather, the pianist Lovie Lee moved to Chicago in 1956, Carey decided to tag along and maybe get a gig  playing in the band.

Carey was given lessons by both
Little Walter
and
'Shakey'
, and he must have been a 'quick study' because he was soon in demand as a side-man, notably with
'Honeyboy' Edwards
and
Muddy Waters
. He was part of
Earl Hooker
's fantastic band with
Freddie Roulette
,
Pinetop Perkins
and
Andrew Odum
who appeared on the seminal album, 'Two Bugs and a Roach'. Carey contributed some original songs to his first solo album 'Blues Harp' in 1969, with the help of Pinetop on piano and
Eddie 'Playboy' Taylor
, whose solid guitar work had backed all of
Jimmy Reed
's hits. Carey toured Europe as part of the Folk/Blues Festival, and when he returned to Chicago spent some time touring in Muddy Waters' band. In 1972, Carey shared an album with his old harp mentor 'Shakey' Horton.
Carey heads up an All-Star band of his own;
When Willie Dixon was putting together his band, The Chicago Blues All Stars, Carey got the call, and he spent nearly ten years touring with this prestigious outfit. When the All Stars were not touring, Carey formed his own band back in Chicago, and his son Lurrie was soon pushing for the guitarists spot. Carey's 1982 album 'Goin' On Main Street' had Lurrie on guitar and Carey Bell Jr. on bass. Two years later Carey and Lurrie traded licks on their album 'Son of a Gun'. Throughout the 80s and 90s, Carey collaborated on five of Louisiana Red's albums and they shared countless gigs. In 1990, the 'Harp Attack' album saw Carey record some blistering work with James Cotton, Junior Wells and Billy Branch, and he also contributed two original songs.
Carey and Lurrie in a laid back domestic situation;
When he was approaching 60, Carey cut his album 'Deep Down' with Lurrie and pianist
Lucky Peterson
. This work showed what Carey was capable of, with great songs like, 'Let Me Stir in Your Pot' and some outstanding harp playing, letting the world know this was no journeyman session player. Carey was presented with a 'Handy Award' by the Blues Foundation in 1998 and he went on to cut five more albums before expiring from heart failure in Chicago in 2007.