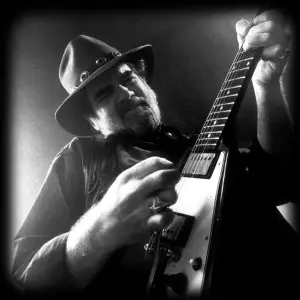 Some people make a huge contribution to our music and are rightly immortalised with awards, statues and Hall of Fame accolades. However some, like Lonnie Mack, remain little known, despite the great groundbreaking work they did in those formative days, five decades ago. With a guitar style that owes as much to Bluegrass as the Blues, and a Gospel phrasing any R&B singer would cherish, Lonnie's delightful early 'roadhouse' style and 'blue-eyed Soul' voice showed the way forward to a generation of future stars. And if you ever wondered why that lever on a guitar is called a 'Whammy bar', then Lonnie had something to do with that too!
Lonnie McIntosh was born in rural Indiana in 1941 on a farm without electricity, and in his early years he listened to country music and R&B on a battery radio. When he was 7, he got an acoustic guitar and began playing bluegrass in the family band, with his Dad on banjo. Gospel music and 'gutbucket Blues' were part of Lonnie's musical education, and he applied his fingerpicking style to these new genres, incorporating the vibe of
Bobby 'Blue' Bland
and
Jimmy Reed
, and the vocal chops of Country star George Jones and
Ray Charles
. As a teenager, Lonnie began performing solo in local bars, with his fine, expressive voice and in 1959 he played guitar on a couple of records by his cousins. Lonnie was inspired to form his own band, The Twilighters', shortened his surname to Mack, and bought one of the first Gibson Flying V guitars, which became his signature instrument.
'Wham!' from 1963;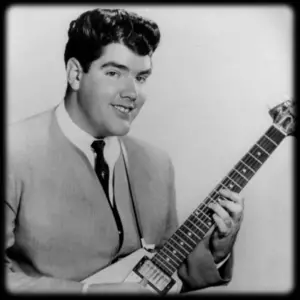 In the early 60s, Lonnie often worked as a session guitarist in Cincinatti for
King Records
, backing
Freddie King
and
Hank Ballard
, and for the small Fraternity label. At the end of one Fraternity session, the producer asked Lonnie and the band to play something for the remaining few minutes of the booking, so he launched into an instrumental re-working of
Chuck Berry
's 'Memphis Tennessee'. He was surprised when Fraternity released it as 'Memphis', and he was astounded when it shot to No.5 on the Billboard Hot 100. He followed up with 'Wham!' another instrumental based on a Gospel tune, using a Bigsby vibrato tailpiece, which may have led to it being called a 'whammy bar'. Further instrumental versions of 'Suzy Q' and Lonnie's own song 'Chicken Pickin' were issued as singles and collected on the 1963 album 'The Wham of that Memphis Man', which was hugely influential on Blues Rockers like
Duane Allman
,
Jeff Beck
and
Stevie Ray Vaughan
. Sadly for Lonnie, his music was swamped by the 'Invasion' of cute young British bands. The powerful 'blue-eyed Soul' ballads which also featured on that album, and which had been getting good airplay on Southern R&B radio stations, were suddenly dropped when it was discovered they came from a chunky white farm boy!
Lonnie and Stevie Ray go head-to-head!
Lonnie flew below the radar for years, but in the late 60s, Blues Rock was a major force in music, and his early work was often cited as a strong influence, so in 1968 he was invited to relocate to the
West-coast
and sign for Elektra Records. His work for them resulted in three albums of mainly Soul and Country ballads, but he also worked as a producer, A&R man and session player. The corporate life in LA did not suit Lonnie and he 'retired' to a farm in Kentucky, out of the business at 30. He played guitar in Dobie Gray's band for a while, contributing four songs to his 1974 album 'Hey, Dixie' but after being shot by the police, Lonnie decided to keep a very low profile. Relocating again to Texas in 1983, Lonnie struck up a friendship with the young Stevie Ray Vaughan, who said Lonnie had "taught him to play from the heart." Stevie recorded several versions of 'Wham!', two with Lonnie, and his 'Scuttle Buttin' is an homage to 'Chicken Pickin'. Lonnie signed for
Alligator Records
, and his album 'Strike Like Lightnin' has Stevie on guitar and producing. As part of the promotion tour, Lonnie played with Keef Richard &
Ronnie Wood
,
Ry Cooder
,
Albert Collins
and
Roy Buchanan
.
Several more albums followed in the next few years, including the spectacular live 'Attack of the Killer V's ' in 1990. He would play the occasional guest spot, like Hall of Fame Inductions, including his own Rockabilly Hall Induction in 2005, and random sit-ins at obscure Kentucky roadhouses until his death of natural causes on April 21st 2016 in home town of Smithville Tennessee.