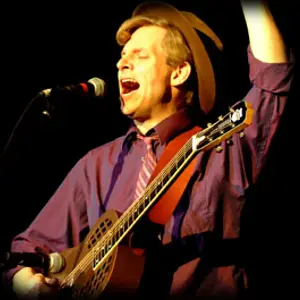 Back in the day, a Blues man might pick up his guitar or harp and set off down the road, looking to play for some folks in a bar or juke-joint for a few drinks, a square meal or a crib for the night. Nobody embodies that spirit today more than Catfish Keith, touring the less well-known by-ways of the world, pulling songs from his big bag of Blues numbers, and captivating his audiences with a kind of music that has deep roots in the Delta.
Keith Daniel Kozachik was born in East Chicago IN in 1962 and growing up in a steel town, he heard a lot of Blues on the radio. He started playing guitar as a teenager, trying to sound like Leo Kottke, but he was enthralled when he heard the playing of
Son House
, with that angry, slashing slide-work on a
National Steel
guitar. After school, Keith hit the road with his guitar, like the 'wandering songsters' of old. His travels took him to the Caribbean working as crew on a boat, where he picked up some of the style of the
Joseph Spence
, the Bahamian folk legend. While diving for lobsters in the Virgin Islands, Keith's friend gently mocked his swimming style, so he picked up that 'Catfish Keith' tag too, which at least stopped people mispronouncing his Slovak surname. At the age of 22, Keith made his recording debut for the Kicking Mule label with 'Catfish Blues'. The exposure gave Keith the chance to play gigs with experienced Blues performers like
Jessie Mae Hemphill
,
Henry Townsend
,
Johnny Shines
and
'Honeyboy' Edwards
, adding to his musical education in every case.
Concert footage of Catfish Keith on a European island;
In 1988, Keith married Penny Cahill and they started Fishtail Records to release his next album, 'Pepper in My Shoe'. This was extremely well received and led to extensive tours of Europe and many Festival appearances. Keith's expertise impressed acoustic Blues fans from all over the world, evoking the passion of a man with emotional connections to the
origins of the Blues
. In addition to his standard National Steel, Keith plays a 12-string version, with both 6 and 12-string acoustic guitars and an innovative 'stomp-board' with a pick-up built in. He has issued a dozen great acoustic Blues albums and his latest release, 'A True Friend is Hard to Find' deals with Gospel music and the spiritual aspects of the Blues, with Keith's own compositions alongside
Blind Willie Johnson
tracks and other 'guitar evangelists' songs. Keith continues to tour The States and Europe to appreciative audiences, keeping the flame burning bright for lovers of the resonator guitar, and everyone who feels moved when a man stands up alone in front of a crowd and opens his heart and soul to the Blues.