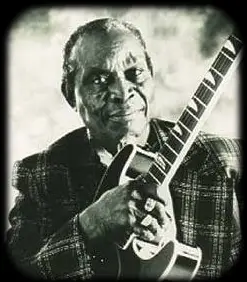 One of the few authentic Delta Blues players to bring the music into the present day, Honeyboy Edwards recorded a Grammy winning album in 2008 and was still performing almost until the day he died. Honeyboy reported that he was with his friend, the legendary Delta Bluesman Robert Johnson on the night he drank the poisoned whisky that killed him. Recording for the Library of Congress in 1942, and in Chicago in the 50s, Honeyboy's commercial success had to wait beyond the Blues revival of the 60s. His archaic country style was overlooked until the 70s, when his authentic Delta sound made him a worldwide favourite at Blues Festivals, and he continued to play the Blues to a ripe old age.
David Edwards was born in Shaw MS, in the heart of the Delta, in 1915. He showed an early interest in the local Blues music and, like his boyhood friends
Robert Petway
and
Tommy McClennan
, he took to playing guitar. He impressed
Big Joe Williams
to the point where he took the young man with him on his travels around the Delta juke-joints, introducing him to
Charley Patton
,
Tommy Johnson
and Robert Johnson. 'Honeyboy' as he was then known, said he was with Robert Johnson in August 1938 in Three Forks MS when he was given poisoned whisky, and Honeyboy's account is accepted as the truth behind the demise of 'The King of the Delta Blues'.
Alan Lomax
recorded some of Honeyboy's songs for the Library of Congress in 1942, and he continued to play his country Blues around the South until he moved to
Chicago
in the mid-50s. He recorded for Artist Records and
Chess
around this time, but the records remained un-issued for decades. Honeyboy's country Blues were largely ignored by the new audience attracted to urban Blues in the wake of the 'British Invasion' of the 60s. There were lots of Delta players still around and Honeyboy had no back catalogue to exploit, but in 1967 he cut an excellent acoustic album for Pete Welding, later re-released as 'Crawlin' Kingsnake'.
'Lay My Burden Down', an example of Honeyboy's downhome style;
Honeyboy teamed up with harp-player Michael Frank in 1972, later forming an electric band with him, and when Michael set up his Earwig label, they called in
Sunnyland Slim
,
'Shakey' Horton
and Kansas City Red to record the 'Old Friends' album. Earwig also issued 'Delta Bluesman', which mixed the Library of Congress recordings with more modern material. By that stage, Honeyboy's authentic Blues growl and masterful guitar work had got him gigs on the club and Festival circuit. His combination of personal songs and covers of classic Blues by the men he knew back in the Delta made him a big attraction and he toured the world as a living link to the
Origins of the Blues
. Honeyboy was no fossil, however, and his strong voice and playing style stayed with him into his nineties.
In 2008, Honeyboy shared a Grammy with
Pinetop Perkins
,
Robert Jr. Lockwood
and
Henry Townsend
for their best-selling album, 'Last of the Great Mississippi Bluesmen'. It was a suitable epitaph for Honeyboy, who passed away at home in Chicago after a few months illness in August 2011. He was booked to play the local Millennium Park on the day he died, and his plans included some gigs in Europe.
Michael Frank pays tribute to Honeyboy.