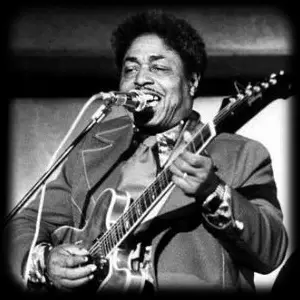 Johnny Shines was not a big Blues star, but he carried the flame lit by his friend Robert Johnson and passed it on to new generations. Johnny's songs were inspired by Johnson, Lightnin' Hopkins and others but he had an energetic guitar style of his very own and a rich, explosive voice that could easily have made him famous in his own right if only he could have caught a break.
In 1915, John Ned Shines was born in Frayser TN, but the family soon moved to
Memphis
and Johnny grew up surrounded by the Blues. His mother taught him guitar and he played around the Beale Street area for tips as a teenager. Johnny moved to Hughes AK to work as a sharecropper in 1932 and, when he was in nearby Helena, he met another 17-year-old who played Blues guitar,
Robert Jr. Lockwood
. While visiting with Robert he met Robert Johnson, who was a 'paramour' of the boy's mother. This meeting had a deep affect on Johnny and, recognising the genius of Johnson's playing, he became something of an acolyte. From 1934, Johnny was often found playing 'second' guitar for Robert Johnson, as the men formed a friendship that saw them travelling around the
Delta
together. It was not always an easy relationship, as Robert could be a moody and mercurial companion and often disappeared for days at a time, but it was solid enough to see them travel to
Chicago
, New York, Ontario, Texas and Kentucky as well as touring the Delta juke-joints.
Johnny's own 'Mean Black Gobbler' has deep Delta roots;
During this time, Johnny would play his own songs to the crowd as well as playing 'second' for Robert, but one day in 1937 they split up somewhere in Arkansas and they never met again. Johnny kept on playing the juke-joints and Memphis clubs, where he encountered an early hero, Howlin' Wolf and harp players Rice 'Sonny Boy II' Miller and 'Shakey' Horton. After news of Robert's death, Johnny adopted some of his songs which remained in his repertoire for the rest of his career. Johnny moved to Chicago in 1941 and played part-time in the South-side clubs. He recorded some unreleased tracks for Columbia in 1946, and had some tracks issued by Chess in 1950, where he was billed as 'Shoe-Shine Johnny'. Further great sessions for JOB with 'Shakey' Horton did not sell many records, despite their quality, and although Johnny could always find work as a 'second' he grew disillusioned with music in 1958 and 'retired'. He was unable to quit the club scene, so he bought a camera and photographed all the Blues stars of the day, selling prints to their fans.
Johnny and 'Shakey' play some Chicago Blues in 1965;
In 1965, Johnny was 're-discovered' and contributed some tracks to the influential 'Chicago Blues Today!' series of albums, playing electric guitar. Further recording success followed and in 1969, Johnny was invited to join
Willie Dixon
's Chicago Blues All-Stars, touring frequently as well as fronting his own band. Family tragedy struck when Johnny's daughter died, leaving him responsible for his grandchildren, so he moved with the family to Tuskaloosa AL. He recorded his album 'Too Wet to Plow' while back in the South and refreshed his taste for Delta Blues. Always enmeshed in the legend of Robert Johnson, Johnny toured frequently with his old friend (and Johnson's 'step-son'), Robert Jr. Lockwood in the late 70s. In 1980 a stroke hampered Johnny's guitar playing, but his voice remained strong and he continued to tour The States and Europe for many years. Johnny appeared in the documentary film 'Searching For Robert Johnson' and he cut an album with
Snooky Pryor
in 1991, but that proved to be his swan-song. Johnny died in Tuskaloosa the following year.
Johnny and Robert Jr. playing in 1980;