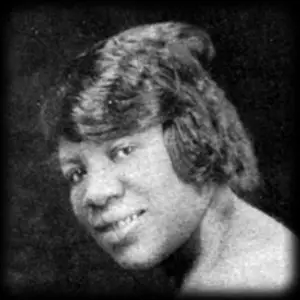 Clara Smith was one of the first of the Blues Divas, who dominated the market for 'race music' in the early 20s, when recording opportunities first opened up for African American artists.
Known as the 'Queen of the Moaners', Clara's voice was actually light and sweet, but she first used it to express her inner pain with hard-done-by love songs like, 'Every Woman's Blues' and 'Moaning the Blues'.
Although Ma Rainey and Bessie Smith are much better known than Clara, she was a big star in her day, and she always had a record in the stores.
Clara was born in Spartanburg NC in 1894 (or maybe '95) and from the age of about 16 had worked as a cabaret singer on the TOBA circuit across the Southern States, starting in the chorus line and eventually headlining vaudeville revues.
She moved to New York in 1923 to get into recording, and was immediately signed by the Columbia label, who were desperate to get into a market that had been dominated by the Okeh and Paramount companies.
That year, Columbia also signed Clara's (unrelated) namesake Bessie Smith, and the women recorded several duets together in the next few years and shared the services of pianist and arranger Fletcher Henderson.
Clara was also joined on record by sidemen of the quality of Louis Armstrong, Charlie Green and Coleman Hawkins and she also recorded four vocal duets with guitar maestro Lonnie Johnson.
Clara's material in the first couple of years concentrated on rather gloomy accounts of lost love, getting her that 'Queen of the Moaners' tag, but she soon moved to more risqué songs like 'Whip It to a Jelly' and 'You Can't Get It Now'.
In a ten year career Clara recorded more than 120 tracks, and her sales for Columbia were only bettered by Bessie Smith herself.
A typical Clara tune from 1925, with Louis Armstrong, Charlie Green and Fletcher Henderson;
Clara was a popular live act all over the country and even appeared on the West coast, a rare event for a Blues singer. Recording contracts did not allow for royalty payments, and the best way to make money for a singer, even one who sold ship-loads of records, was to sell concert tickets.
Recommended Album
Clara had cheered up a little when these tracks were cut, and the quality of sound recording had improved too, doing some justice to her great voice.
Her touring show included vaudeville tunes, popular songs and even some comedy numbers later in her career, again giving a lie to that 'moaner' tag.
In 1935, Clara was on the road in Detroit when she died from a heart attack while still just 40 years old.