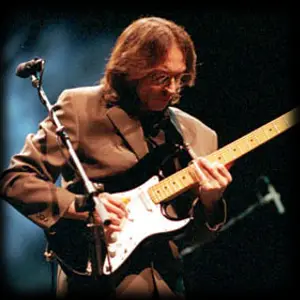 Combining his wicked side-guitar work with a fretting and chording technique, and a whole bagful of right hand tricks with finger-picking, hammering and a heavy thumb-pick, Sonny Landreth brings a unique style to his Southern Blues.
Also known as 'The King of Slydeco', Sonny's playing has strong zydeco and Swamp Blues roots, but his expansive, sensitive and coherent approach to guitar playing recalls the work of the finest jazz virtuosi.
Sonny was born in Canton MS in 1951, and brought up in nearby Jackson, before the family relocated to Lafayette, Louisiana.
Trumpet was Sonny's first instrument, but inspired by Scotty Moore's turnarounds on Elvis' records, he took up guitar.
In his mid-teens, Sonny was leading his band around the local scene, and when he was 22 years old, he cut some tracks which would be released much later as 'Prodigal Son'.
He was soon recruited by Clifton Chenier, and for a good while he was the only white guy in The Red Beans & Rice Review, touring with 'The King of Zydeco'. In the 80s, Sonny recorded two Blues albums for the small local Blues Unlimited label, 'Blues Attack' and 'Down in Louisiana', which got him noticed in 'the industry'.
He toured and recorded with John Hiatt, and worked with John Mayall, who recorded Sonny's song 'Sense of Place'.
Sonny's 'Zydeco Shuffle' from 1994;
In 1992, Sonny recorded his album 'Outward Bound', which showed a man with a whole new fusion of Blues guitar, with a zydeco vibe and a soft but insistant voice, and it sold well enough to get those earlier Blues Unlimited albums re-released.
Sonny's 1995 album 'South of 1-10' had guest spots from Allen Toussaint and Mark Knopfler, and his distinctive guitar style won him many admirers and he also picked up that 'King of Slydeco' tag.
Sonny played on Junior Wells' 'Everybody's Gettin' Some', and Eric Clapton was also mightily impressed, so it's no accident that Sonny has been invited to play at all Eric's Crossroads Guitar Festivals.
The 2000 album 'Levee Town' is almost entirely self-written, as Sonny's songwriting talents and beautiful instrumentals were helped out by his friends Bonnie Raitt, John Hiatt, Michael Doucet on fiddle and Errol Verret on accordion.
That album didn't sell in big numbers, but his next one, 'The Road We're On' blew the roof off and went to No.1 in the Blues Album Charts. The follow up, 'Grant Street' went to No.2, and by then Sonny's unique style had attracted world-wide attention, with many tours and Festival appearances.
Recommended Album
South of 1-10 is a great album, and the track 'Congo Square' is a personal favourite. Sonny's guitar work on his first brealkthrough CD shows what all the fuss was about.
In 2008, Sonny's next album 'From the Reach' again went to the top of the Blues Album charts, with Clapton, Knopfler, Eric Johnson and Robben Ford making contributions.
Starting up his own Landfall label, his next project 'Elemental Journey' was an extremely personal statement. This all-instrumental work has guests Joe Satriani and Eric Johnson and a tasteful string section contributing to a fusion of Jazz, Rock, Blues and Zydeco, with Sonny's composition 'Gaia Tribe' perhaps the stand-out track.
Packing his trust Fender Strat, Sonny is often on the road, continuing to astonish audiences everywhere he goes.
Sonny and Eric play 'Promised Land' at Crossroads 2010;