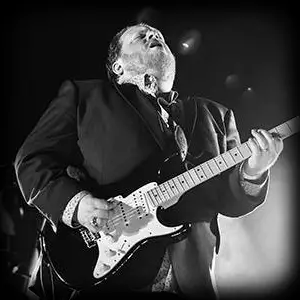 Heavily featured in such trade publications as Guitarist Magazine, Guitar Techniques and Guitar And Bass, Danny Bryant is the kind of fleet-fingered guitar master whose appeal would seem limited only to fourteen-year-old aspiring guitar heroes. But there is actually much more to Bryant than his ability to perform amazing feats on a set of steel strings.
Indeed even those who've never touched a guitar can instantly understand his appeal. This makes perfect sense given that Bryant sees himself more as a songwriter than a guitarist.
But it wasn't always that way. His mastery of blues songwriting didn't come until later.
At fifteen, the blues bug gave young Danny a bite. The two biggest influences at that early stage were Irish guitar legend Rory Gallagher and America guitar whiz Walter Trout.
Trout, known both for his solo work as well as his stints in Canned Heat and
John Mayall
's Bluesbreakers, came into the Bryant household in a fairly innocuous way. His parents liked the cover of a Walter Trout album so they bought it. According to Bryant, "They played it and it hit something in me." But this act of mild violence wasn't the end of Trout's impact on young Danny. Bryant sent Trout a letter to which the blues star graciously replied with an encouraging phone call.
Inspired by the "wildness and intensity" of Trout's playing, Bryant embarked on a career in the blues. In later years, Walter trout would become a mentor and colleague for him, leaving him with a number of indelible memories, such as the time he showed up at the studio immediately following a late-night show and played on the song "Days Like This." According to Bryant, Trout accepted no more payment than a glass of apple juice and a cream cake.
Years later, Bryant returned this and many other favors by filling the spot in for the ailing Trout as he recovered from liver transplant surgery.
Song subjects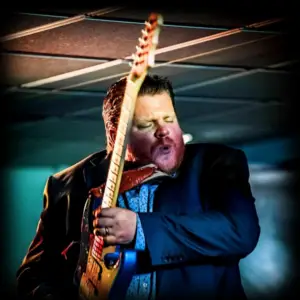 Sooner or later any discussion with Bryant will inevitably lead to the craft of songwriters – and for good reason.
Many of his biggest inspirations were singer/songwriters like John Hiatt, Bob Dylan and Jimi Hendrix. He's even written a few songs about those who've influenced him the most.
And like many others, he hasn't been shy about summoning his singer/songwriter heroes when in need of inspiration. For the song "Painkiller," Bryant tried to compose Robert Cray-like lyrics and music reminiscent of John Hiatt.
The result, of course, was a song that sounded like pure Danny Bryant.

Road Warrior Meets Studio Rat
With all the emphasis that Bryant puts on the importance of songwriting, it must be said that beneath all his cerebral understanding of music composing, the man is, at his very core, a performing artist who lives and breathes to perform his compositions. He sums everything up by saying, "I love to tour and I love to take new songs out on the road. One of the reasons I record so regularly is bringing new songs to life on the road makes touring so much more enjoyable and fulfilling! I love the challenge that comes with taking a new record out on the road."
Right on the (Blood) Money
His latest album, Blood Money was intended primarily to be an homage to his biggest inspirations, those who gave him the necessary nudge to get things going with his career and life in the blues. So it is fitting that the release would feature a collaboration with his biggest mentor and influence, Walter Trout, especially as Trout's health had deteriorated to the point where it wasn't clear if he'd still be around at the time of the recording.
The sense of pride and sheer joy in Bryant's playing is evident with every note. The passion speaks louder than any lyric possibly could. And isn't that what the blues is all about?