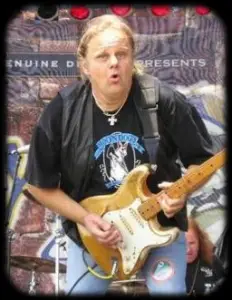 Walter Trout seems to have been around forever, an unspectacular but relentless force that draws on the roots of the Blues and adds the drive of rock music, blended into a spirit that still inspires audiences wherever he plays. Learning his chops under the guidance of some Blues legends before striking out on his own, Walter has spent the last thirty years playing his guitar, usually at the front of a power trio, for audiences all over the world.
In 1951, Walter Trout was born in Ocean City NJ, and after playing in several local bands as a teenager, decided to take his guitar to the West Coast in search of work. He found it as a session musician and side-man, spending ten years working with John Lee Hooker, Joe Tex, Big Mama Thornton and Percy Mayfield. It was perhaps through John Lee's connection with Canned Heat that Walter was invited to join Heat after the demise of Bob Hite in 1981.
He spent four years with that rather chaotic incarnation of the band, recording in Australia and playing for bikers, before leaving to join John Mayall's Bluesbreakers, where he forged an excellent 'twin-lead' partnership with guitarist Coco Montoya. This version of The Mayall Finishing School for Guitarists (alumni include Eric Clapton, Peter Green, Mick Taylor and Harvey Mandel) toured the world and recorded several albums including the live 'Behind the Iron Curtain' in Hungary.
Walter's early band somewhere in Europe;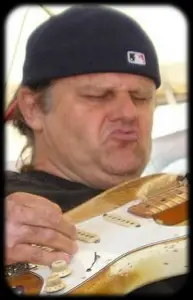 Walter was approached in 1989 by a Danish promoter who proposed a European tour, so Walter assembled his own band and started building a large and loyal following there. Touring frequently and releasing an album almost every year since then, Walter has carved out a long career as a solid Blues-rocker with a fast-fingered guitar style and a convincing Blues voice. In 1998, his self-titled album was released in The States as he brought his music back home, as well as remaining a force in Europe and doing more 'missionary work' by taking the Blues to the sub-continent of India.
The band was billed as The Free Radicals around this time, later shortened to The Radicals, and finally just Walter Trout. Walter's 2006 album 'Full Circle' was made with some of his favourite guitarists, including John Mayall, Coco Montoya and
Joe Bonamassa
, and he was certainly not out of place in such company. Walter's 2012 album 'Blues for the Modern Daze' is inspired by the work of
Blind Willie Johnson
, and marked a return to the roots of his enduring, expressive music. In 2013, while on tour in Europe promoting his fine tribute album 'Luther's Blues', Walter suffered health problems which required a liver transplant, but he is revitalised again, and in good form with  new album releases every year.
Having fun back in his hometown;