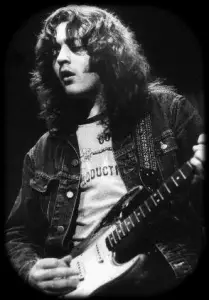 Rory Gallagher was a great front-man for a blues-rock band. His guitar playing, loud, caustic, soulful or delicate, was always a clear and coherent statement, complimented by a distinctive voice capable of raw power and surprising gentleness.
Growing up in Cork, the young Rory listened to American music on AFN and copied players like Lead Belly, Muddy Waters and Hooker on a cheap acoustic guitar. The 14-year-old persuaded his family to let him buy him a second hand Fender Stratocaster for the (then) huge price of £100, reasoning that with such a fabulous instrument, he wouldn't need to pay a second guitarist!

Rory played in various skiffle outfits, and got bigger gigs touring with the Fontana and Impact Showbands, but there was no Blues scene in the South of Ireland in the 60's. In 1966 Rory moved to Belfast, where there were some emerging bands following in the wake of
Van Morrison
's 'Them'. Here Rory formed the first incarnation of 'Taste', a trio playing mainly folk-blues. In 1968 Rory was still a teenager, but he moved to London and recruited Charlie McCracken on bass and drummer John Wilson into the version of Taste that stepped into the void created by the break-up of
Cream
. The new power trio was a hugely popular live act and made two albums that mixed cover tracks from Rory's heroes with his own songs. Taste supported Blind Faith on their tour of the States and Rory wanted to stay and 'break' America, but his bandmates wouldn't do it.
Rory with Taste, as they blast out 'Sugar Mama';
Back in London Rory teamed up with bassist Gerry McAvoy, who played with Rory for more than two decades, and set out on a solo career that saw him release 12 albums in 12 years. He recorded with Muddy Waters and Albert King, touring the States with both Blues legends as well as a crazy tour with Jerry Lee Lewis. Rory showed his uncompromising character by refusing to release a single, which made it difficult to get radio play, and this made him a difficult 'product' for executives to promote. Rory couldn't care less, because his idea was that if you played fantastic concerts people would buy your records. His 'Live in Europe' album made the point perfectly, showing Rory's talent for blues-rock crackling from his fingertips.
In 1974, Mick Taylor left The Stones and Rory spent a few days with them in Rotterdam as a prospective replacement, as did Harvey Mandel and Ry Cooder. Rory's impressive chops were never in doubt, but Jagger and Richards recognised that Rory was essentially his own man, with a lot of singing and songwriting to do. Although he was a blues player at heart, Rory's writing had elements of folk and jazz influences and he played sax and harmonica in many of his performances. Some of his compositions reflected the subtle input from Irish music into traditional Blues, perhaps best illustrated in the 'fife and drum' genre. When asked about covering his heroes' songs, his reply showed due reverence: "You have to have the 'pomposity' to do it, and you have to convince the audience…… but first you have to convince yourself!"
The gritty realities of 'the troubles', and Rory's response;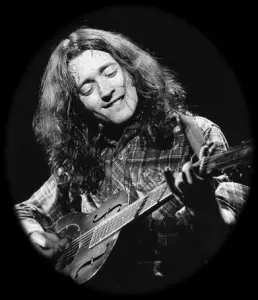 A quintessential Irishman, Rory insisted on touring his home country when almost no-one else did. He played in the North, at the height of 'the troubles', to an ecstatic reception from a crowd that crossed the sectarian divide. Again a brilliant live album resulted, 'Irish Tour', documenting some of his finest gigs and he headlined the first Rock Festival in Ireland at Macroom in 1977, as well as putting up the money to start the influential Irish rock magazine Hot Press.
Continuing a punishing schedule of touring the world and recording studio albums, Rory pursued his strategy of keeping records in the stores and fans out of their seats. He toured the United States maybe 20 times, opening for everyone from The Faces to Aerosmith, and stealing many a show with a blistering short set. Rory was hospitalised in LA in 1978  and by the early 80's the life was beginning to take it's toll. He quit gigging and didn't put out an album for five years.
Rory in his prime was an awesome performer!
Rory returned with 'Defender' in 1988 and resumed touring, but he developed a fear of flying and took tranquillisers to cope. The accumulation of these drugs, a longstanding drinking habit and wrongly prescribed steroids, led to Rory's immune system breaking down. In 1995 he caught 'flu in Holland and went to London for treatment. He had a liver transplant but died from resulting complications at the age of 46.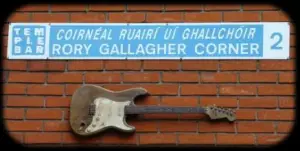 There are memorials to Rory in Cork and Belfast, and an annual Music Festival in his birthplace Ballyshannon bears his name, but perhaps the most touching tribute is the bronze replica of his beloved 1961 Strat (64351), the guitar he played right to the end, which graces Rory Gallagher Corner in Dublin's Temple Bar.