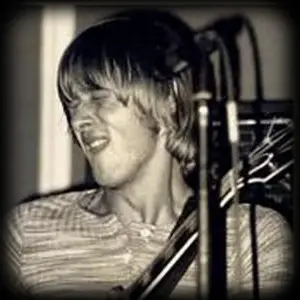 The first incarnation of Fleetwood Mac was as a hard-rocking Blues band, but when Danny Kirwan joined Peter Green on guitar and contributed his songwriting abilities to the mix, a more complex and mellow blend of music emerged. When Peter left the band, Danny assumed a more central rôle, but his struggle with alcohol, and perhaps undiagnosed Asberger's syndrome, meant he was crushed by the pressure and his life fell apart.
Daniel David Kirwan was born in South London in 1950. As a teenager, his band Boilerhouse attracted the attention of Blue Horizon Records boss
Mike Vernon
, and after Peter Green saw them play, Fleetwood Mac gave them support gigs at several London shows. Peter was impressed with Danny's wide range of influences and his inventive guitar work, and the pair developed a personal and musical rapport which led to Danny joining Mac in 1968. Their first record together was 'Albatross', which topped the UK singles chart, and although Peter composed and arranged it, he gave a lot of credit to Danny's input. Danny took several lead vocals and wrote half the songs on 'Play On', the next Mac album, and the band's live shows featured Peter and Danny 'duelling' on their twin
Les Paul
guitars. A rumoured 'duelling guitars' album did not happen because Peter left the band, amid stories of heavy drugs and dubious cult activities, but personal issues between the two men were also in play.
Danny and Peter 'duelling' on 'Like it this Way';
Outside his work with Mac, Danny had played on
Otis Spann
's 'Biggest Thing Since Colossus' album, and solo releases by Christine Perfect (later McVie) and
Jeremy Spencer
, and also with the Blues band Tramp. Mac recorded the 'Kiln House' album with four of Danny's songs, but on the 1971 tour of America, Jeremy left suddenly to join a religious cult. His replacement Bob Welch found Danny to be an excellent guitarist, but on a personal level, a difficult character with a serious alcohol problem. Danny wrote many of the songs on Mac's next two albums 'Future Games' and 'Bare Trees', but he became so remote from his fellow musicians that he was sacked by Mick Fleetwood in 1973.
Two years later, Danny released the first of four albums on DJM Records, centring on themes of love and alienation, and including some wonderful settings of poetry, but none had any real commercial success. Reluctant to play in public and suffering from mental health problems, Danny disappeared from the music scene. Sadly, he did not re-emerge and died in London on 8 June 2018, but his unique contribution to an important chapter in the story of
British Blues
will be remembered with genuine affection.