BOOM, BOOM. BRITISH BLUES
In 1962, four guys from Liverpool were playing R&B tunes in the Star Club and the Indira Club on the Reeperbahn in Hamburg's red light district. They played mostly covers of black American music they had copied from records brought back from the USA by merchant sailors returning to Liverpool. They adapted and incorporated this style in their early self-compositions, including some distinctive harmonica riffs, when they returned to Britain and began recording as The Beatles.
New, exciting, distinctly British music.
When they signed for EMI and started selling boat-loads of singles writing their own songs in the R&B style, The Beatles breached the levee and a huge wave of young talent flooded through after them. Teenagers were sick of the bland, colourless offerings of the music industry, which were largely crooners, novelty acts and American imitators served up by Tin Pan Alley. They were hungry for new, young, exciting and distinctly British music.
Alexis Korner
's
Ealing Blues Club
and the Marquee in Soho provided the template for a club scene that sprang up almost overnight in every town and city in Britain. Soon young people with money to spend could see a different band every night, and the shops were full of albums by these 'hip' new rock groups.
The Blues as the voice of oppressed people.
This musical bonanza did not arrive fully formed and its roots in the Blues are unmistakable. The music of an oppressed and dissatisfied minority in America was mirrored in Britain by young people who felt exactly the same way in the grey, restrained, class-ridden post-War British society. The music was not a simple copy, because these young working-class kids could not sound like 50 year old men, so they put in power chords and crescendoes and it came out sounding very different. If you compare Mose Allison's 'Young Man Blues' to The Who's cover version, it is obviously a copy, but that does not make it less powerful, less heartfelt or less meaningful to the people listening to it. When these new interpretations of Blues and R&B were heard back in America, their domestic music scene was changed forever.
Music speaks across generations, & across the racial divide.
Blues bands dominate the singles charts.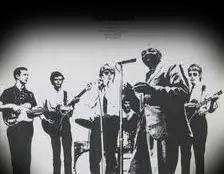 The Rolling Stones were a Blues band from the beginning, and they played a crucial role in taking the music back to America. In 1964 they recorded at Chess Studios with Muddy Waters and insisted on Howlin' Wolf appearing with them on their nationwide TV appearance on 'Shindig'. The Newcastle based band The Animals adapted two songs off a Josh White album for their first hit singles, and Eric Burdon's authentic blues growl made 'House of the Rising Sun' a worldwide hit. Eric 'Slowhand' Clapton was playing with The Yardbirds in 1963 and they cut some tracks backing Rice 'Sonny Boy II' Miller  when he was in Britain. Sonny Boy's quip that "Those boys want to play the blues so badly…… and they do!" was a bit unfair as the boys were still learning their chops. When Clapton left The Yardbirds to join John Mayall's Bluesbreakers, he was replaced by Jeff Beck, and later by Jimmy Page. Mayall's band was also seen as a hot-house for Blues talent, producing Mick Taylor for the Stones and Andy Fraser for Free before Mayall left to live in California.
John Mayall on the road in the mid-60s.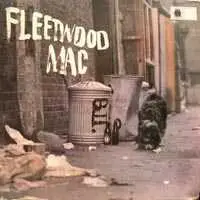 Peter Green, John McVie and Mick Fleetwood left The Bluesbreakers to form Fleetwood Mac and their first 'Dog and Dustbin' album was arguably the best British Blues record of the era. There was plenty of competition from Rory Gallagher's Taste, Savoy Brown, Joe Cocker, Spencer Davis Group and Chris Farlowe. Van Morrison's band Them had big hits with 'Baby Please Don't Go' and 'Here Comes the Night', featuring his fiery uncompromising vocal style. The Pretty Things, Groundhogs and Manfred Mann, with Paul Jones excellent blues harp, had all been touring and recording since the early days at Alexis Korner's club in Ealing.
The 'British Invasion'.
After The Beatles The Stones and The Animals' tours of the USA the others soon followed, prompting a shake-up of the American music scene known as the 'British Invasion'. This new interest in Blues-based rock music revived the careers of dozens of older Blues players who must have thought their time had passed. The British bands were quick to give credit to their Blues heroes, and as BB King said, "It all opened up then". It also opened the doors for contemporary American acts like Paul Butterfield, Canned Heat, Dr. John, the Staples Singers and many others. It wasn't a one way street, as Jimi Hendrix and Champion Jack Dupree became British residents, and all the Blues giants found large and appreciative audiences in Europe. Annual tours by The American Blues Festivals introduced millions of European teenagers to black American Blues artists that had only been names on album covers before then. Sales of re-issued records meant some of those players got paid better for their work than they ever did before, and most were given the opportunity to record new material.
The Blues took a European holiday, and was welcomed home with open arms.