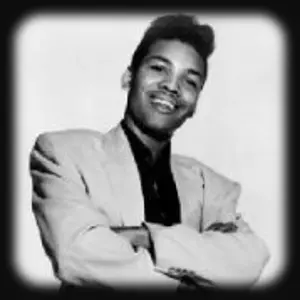 Larry Williams was a great singer, pianist, producer and songwriter, who had long and fruitful partnerships with both Little Richard and Johnny 'Guitar' Watson. However, he also had a long term drug problem, and he died from gunshot wounds in LA at the age of 44.
Born in New Orleans in 1935, Lawrence Eugene 'Larry' Williams moved to Oakland CA with his family when he was a kid. He learned piano and played with a local band called The Lemon Drops before deciding to try his luck back in New Orleans. Still a teenager, he worked as Lloyd Price's valet(!) and played in his band, then picked up some work with Roy Brown, Percy Mayfield and Little Richard, who became a good friend. Larry signed for Art Rupe's Specialty label just as Little Richard quit to join the Ministry, and Art saw Larry as a ready substitute. Using his powerful, raw voice and a driving piano style, Larry's first single 'Just Because' made No.11 in the R&B charts. Then his own song 'Short Fat Fannie' made No.1, and crossed over to show at No.5 in the Hot 100. He followed it up with 'Bony Maronie', ' Dizzy Miss Lizzy', 'Heebie Jeebies' and dozens more, but a drug conviction in 1960 resulted in three years jail-time.
Larry's 'Dizzy Miss Lizzy' was big hit, covered many times;
Relocating to the
West-coast
, Larry teamed up with Johnny 'Guitar' Watson in the mid-60s. They had some successful Soul/Blues records together, developing a funky groove, and they toured Europe where Larry was well known for his songs that had been covered by The Beatles and
Rolling Stones
. Larry worked mainly as a producer in the early 70s, and also had a brief movie acting career, but his drug use was getting out of control.
He worked with his old friend Little Richard, helping to stage his extravagant live shows, but it is said that Richard returned to his religious career after Larry pursued him with a gun over an unpaid drug debt. Larry had a brief flirtation with disco music in the late 70s, but his records didn't trouble the charts. In January 1980, Larry died from gunshot wounds to the head in LA. It was ruled to be suicide, but it aroused suspicions that it was the kind of hit you get from messing with hard drugs.