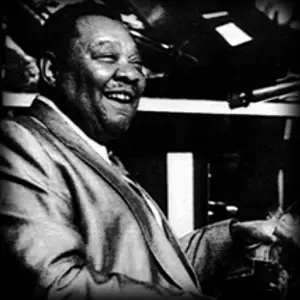 Big-band swing made people dance in the years before WWII, and Jump-Blues and R&B did the same in the post-War years, and Jay McShann was one of the bandleaders who prompted the change. Recruiting excellent musicians in both causes, Jay (a.k.a. 'Hootie') played piano and sang with his band for over 70 years, and they played on some chart topping R&B records.
James McShann was born in Muskogee OK in 1916, and learned about music from listening to the radio, especially the piano of Earl 'Fatha' Hines broadcasting from Chicago.
By the age of 16, Jay was playing piano around Tulsa, and when he relocated to Kansas City in 1934, he started looking for musicians to form a big band. His idea was to play up-tempo Blues for dancing, and he had a good ear for a musician, recruiting Charlie Parker,
Eddie 'Cleanhead' Vinson
and Ben Webster on horns, and singers Walter Brown and
Jimmy Witherspoon
. The big band signed for Decca Records and recorded 'Confessin' the Blues', which Jay wrote with Walter, and 'Hootie Blues' with a storming solo from Charlie Parker. The band was in great demand for live gigs but Jay was drafted in 1944, and although Walter kept things going for a while, most of the musicians were eventually sent off to WWII.
Jay plays piano on 'Ain't Nobody's Business' with The Spoon;
On his return from the War, Jay formed a smaller band with singer Jimmy Witherspoon to perform jump-blues for the dance culture that grew from the mood of public euphoria following the victory. They topped the R&B charts with a remake of Bessie Smith's 'Ain't Nobody's Business' in 1949 and, when Jimmy went solo, Jay and the band backed him on many of his big hits. Jay had quite a few big sellers under his own name, including 'Hands Off' with Priscilla Bowman on vocals, which also made No.1 in 1955. Jay had a great voice himself, and was to go on to lead his band around the circuit for the next five decades.
He occasionally had Jimmy or Priscilla as guest vocalist and often featured violinist Claude Williams. Settled on the
West-coast
for a while in the 70s, Jay toured Europe many times, and he recorded albums in France and also in Canada. In 1979 he featured heavily in a film about Kansas City jazz called 'Last of the Blue Devils' with
Big Joe Turner
and Count Basie. In his later years, Jay moved back to Kansas and could often be seen performing locally. He passed away in his adopted home town in 2006.