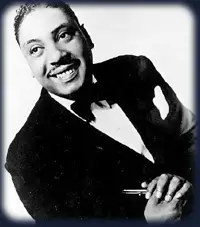 When the Blues made the transition from its rural roots in the Delta to the urban boogie-woogie and Jump-blues that made people dance, (and which morphed into Rock'n'Roll), nobody had a bigger voice than Big Joe Turner. A Blues shouter from Kansas City, Big Joe crossed many musical boundaries an the course of a career spanning almost 60 years. His vocals barely needed a microphone, and his energetic, passionate, humourous delivery created an excitement in the audience that meant everybody got up to dance.

A big-boned teenager, Joe worked in Kansas City nightclubs in the twenties, gaining a reputation as The Singing Barman in joints like The Kingfish and The Sunset. He teamed up with boogie-woogie pianist
Pete Johnson
and soon came to the attention of John Hammond in New York. When Hammond organised the
'Spirituals to Swing'
concert at Carnegie Hall in 1938, Big Joe and Pete were on the bill, and as a result they recorded a thunderous version of 'Roll 'em Pete', which was used many decades later in the opening of the Spike Lee film 'Malcolm X'. Big Joe and Pete began a residency at New York premier music club 'Café Society', along with
Albert Ammons
and
Meade 'Lux' Lewis
, as the result of the new boogie-woogie craze, and Big Joe's versions of 'Cherry Red', 'Piney Brown Blues' and 'Careless Love' all sold well.
This breakthrough track helped to start the 'Boogie-Woogie' craze
In 1941 Big Joe moved to the West Coast, touring with Duke Ellington's 'Jump for Joy' revue, and soon Big Joe and Pete opened their Blue Moon Club in LA. Big Joe recorded for many West Coast labels in the 40's, as jump-blues began to dominate the nation's dance floors, as well as working with Texas Bluesmen Lowell Fulson and Pee Wee Crayton.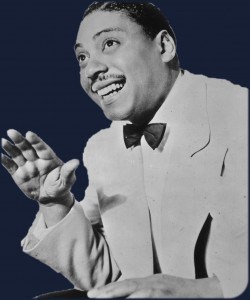 By 1951 Big Joe had moved to New York and was fronting Count Basie's Orchestra when he was approached by Ahmet Ertegun for the Atlantic label. They turned out a string of R&B hits such as 'Sweet Sixteen' and 'Honey Hush', despite their salacious lyrics limiting their chances of radio airplay. Big Joe really hit the big time in 1954 with 'Shake Rattle and Roll'. Bill Haley's game-changing cover version, with cleaned up lyrics that took Rock'n'Roll to the world, prompted many fans to look back at the original and realise where this exciting new music was coming from. Suddenly Big Joe had a big new audience, and he thrilled them with 'Well Alright', 'Flip, Flop, Fly', 'Corrine Corrina' and in 1956, 'Lipstick, Powder and Paint'. The following year Big Joe toured with Alan Freed's Rock'n'Roll shows, and he also recorded 'The Boss of the Blues' with Pete Johnson and a band of Swing players.
Big Joe's swinging version of 'Shake Rattle and Roll';
Big Joe returned to the Blues in the 60's, teaming up with Johnson again for a tour of Europe. The Jazz and Blues Festivals of the next twenty years guaranteed Big Joe a warm welcome on the world stage. In these decades the Pablo label issued many laid-back albums with Big Joe sharing the credits with a roster of jazz and blues luminaries and he appeared in good-natured 'Battles of the Blues' with Wynonie Harris and T-Bone Walker. He co-starred with Count Basie in the Kansas City jazz film 'Last of the Blue Devils' in 1979, with a follow up album, 'Kansas City Shout'.
By the 1980's big Joe was struggling with arthritis and diabetes, but he continued his Festival appearances and in 1983 he cut the 'Blues Train' album with the long-running New England band, Roomful of Blues. Big Joe's big shout finally faded away in Inglewood CA in 1985, but if you listen carefully you can still hear it's echo in thousands of Blues Bands. Swing, jump-Blues, boogie-woogie, rock, and Blues ballads were all in Big Joe's repertoire, but he is still best known as 'The Boss of the Blues'.