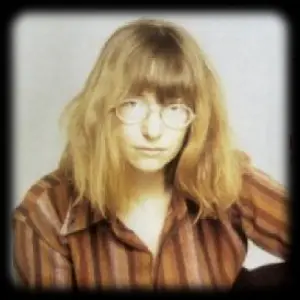 Like Memphis Minnie before her, Jo Ann Kelly was the genuine article: a woman who could play the Blues as hard and deep as any man. Her rich, strong voice and authentic acoustic slide guitar work made her a big attraction on the British folk/blues circuit.
Usually playing alone and sometimes singing 'a capella', she could convey her Blues like a Delta original.
As a teenager in London, she and her brother Dave were fans of the growing London Blues scene that was gathering momentum in the early 60s, and both were influenced by the slide playing of Mississippi Fred McDowell, who Jo Ann was later to share the stage with.
She teamed up with Tony (TS) McPhee of the Groundhogs and also with The John Dummer Blues Band, recording two albums with each group, but she was essentially a solo artist.
When she jammed with Canned Heat, they wanted her to join them and she turned down the same offer from Johnny Winter, but she helped to form The Blues Band with her brother Dave, ex-Fleetwood Mac bassist Bob Brunning and harp player Paul Jones.
Sensational 'Louisiana Blues' from a genuine, authentic Blues woman;
Recommended Album
This superb album sees Jo Ann tackle material from many genres, from Hank Williams to Marvin Gaye and gives every track a stunning Blues treatment. A capella version of 'Levee Camp Holler' is a revelation.
Jo Ann's 1974 album 'Key to the Highway' shows what she was all about; adapting country and soul numbers to her own acoustic Blues style and writing some great songs of her own.
She often guested with bands like Tramp and Chilli Willi on the British club scene, and used The Blues Band to back her in her show 'Ladies and the Blues', where she paid tribute to female stars like Sister Rosetta Tharpe and Bessie Smith.
In 1988, Jo Ann began complaining of severe headaches and investigation detected a brain tumour, which was removed.
She seemed to have recovered and was gigging again but, tragically, she died shortly afterwards.
A later performance from this much-missed artist;