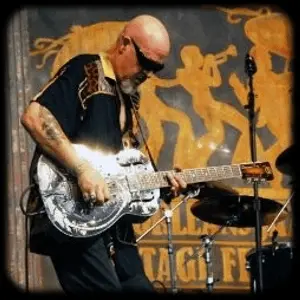 Leading his New Orleans based band Bluesiana, John Mooney's heavy, rhythmic guitar style combines Delta slide work with electric Blues that can boogie with the best of them. A series of classy albums and relentless touring have made him a welcome guest on the world Festival circuit, and a fixture in his adopted home town.
John was born in 1955 in New York State and brought up in Rochester NY where he learned guitar as a kid, perhaps inspired by his grandfather who had recorded with his mandolin and banjo back in the 20s. When John was 15, he moved to New Orleans where he was introduced to another former resident of Rochester, the great Delta blues legend Son House. The pair became firm friends and John's slide guitar work shows evidence of his mentor's tuition.
In New Orleans, John got the opportunity to play with
Snooks Eaglin
,
Earl King
, The Meters and the highly influential
Professor Longhair
. These masters of New Orleans' unique style of Blues inspired John to play his country flavoured electric guitar in front of a rhythm section schooled in that distinctive second-line beat. His first album, 'Comin' Your Way' cut for Blind Pig in 1979, was followed by 'Late Last Night' the following year.
Funky Delta-Swamp mash-up in Sweden!
In 1981, John formed his band Bluesiana and their infectious blend of electric Delta Blues with a funky back-beat has made them popular all over the world. They have toured Europe many times and their appearances at big festivals like Montreux, Newport and Chicago have won them legions of fans. Ten studio albums have been released in the thirty years since Bluesiana hit the road, some with the help of guests like
Dr. John
. There have also been numerous live albums, several of them cut at the New Orleans Jazz and Heritage Festivals, where Bluesiana have appeared very many times. No-one should miss the opportunity to see John play live, as his 'artistic transmission' from Son House and the Dockery Plantation is played out before your eyes.