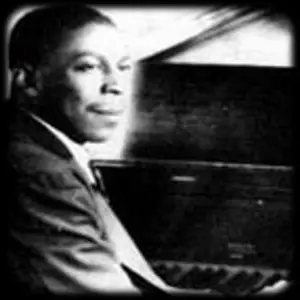 Maceo Merriweather was in important interpreter of urban piano Blues technique, who helped to transform the rough barrel-house styles of the Southern juke-joints and 'sporting houses' into the more sophisticated improvisations heard on the Chicago club scene. Performing solo or in a small band setting, Maceo incorporated the understated good taste of Leroy Carr with the jazz influences of Roosevelt Sykes, over a left hand that could pound the keys or walk a simple stride, depending on the mood. A generous teacher, Maceo influenced a generation of Chicago pianists that continued his work beyond his own career, that was cut tragically short.
Major Merriweather was born in Atlanta in 1905, and was an accomplished self-taught pianist when his family moved to Detroit in 1924. His rather heavy-handed style got him established on the local club and rent-party scene under the name Big Maceo, and when he went to Chicago with his wife Hattie in 1941, it was with the express intention of making records. They soon gravitated to
Big Bill Broonzy
and
Tampa Red
's informal employment exchange for newly arrived musicians, and the two men were so impressed by Maceo's versatility they recommended him to producer
Lester Melrose
. Maceo's first day in the studio for Bluebird yielded six solo tracks and he also played on eight more with the slide-guitar of Tampa Red. One of those tracks, 'Worried Life Blues', became a big hit and remained as Maceo's enduring signature tune, and he was called to many more sessions to back Lester's strong roster of Blues stars.
Big Maceo sings about his 'Worried Life';
With the departure of Memphis Slim in pursuit of a solo career, Big Bill and Tampa Red needed a pianist for their gigs, and Maceo filled the bill in every way. He could boogie with the best of them, but he could also drag out a slow Blues and his skill as an accompanist with his rock-solid, booming left hand figures, was perfect for a small band. Recording opportunities diminished as the War got under way and Maceo would sometimes return to Detroit to find gigs, but in 1945 Maceo resumed his recording career. The rollicking instrumental 'Chicago Breakdown' was among his first recordings and his great singing voice, with sweet, hard or dreamy tones to suit the material, was as versatile as his many piano styles.
'Chicago Breakdown' was a big hit and it's easy to hear why!
In 1946, Maceo suffer a massive stroke that paralysed his right side and effectively ended his career. He cut some vocal tracks in 1947 with
Eddie Boyd
at the keyboard, and in 1949 Specialty Records had him singing over
Little Johnny Jones
' piano.
Otis Spann
was also an avid pupil of Maceo's work and they would sometimes play the South-side clubs together. All three of these great Chicago pianists paid tribute to the generosity of their mentor in sharing his wonderful techniques. Maceo struggled with health issues for the rest of his life, which ended in 1953 when he was 47 years old.