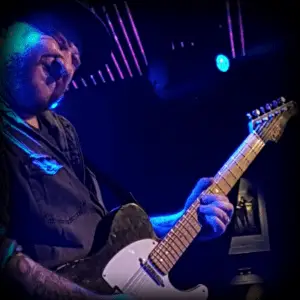 Guitar Guru in the Making
The six-string guru is a time-honored tradition in the blues like no other instrument player. While many soulful pianists, drummers, bass players and, of course, vocalists have added mightily to mosaic that is the blues, the respect, fascination and awe for the giants on guitar is something special.
From Robert Johnson to the Three Kings (B.B, Albert and Freddie) to Eric Clapton, there's something about a guitar hero that captures the imagination of the genre's fans. Josh Smith is a proud torch bearer of that tradition. And after one quick listen, it's easy to see how he's earned the honor.
A boy's First Love – The Blues
Born in 1979, Smith came of age decades after the peak commercial years of the blues. But his limited exposure to the blues didn't stop him. Despite growing up surrounded by fans of '80s rock and roll and, later, grunge, Smith found a fondness for the blues early – playing his first guitar at six.
It was a B.B. King song Smith first connected to. He doesn't recall if the song was 'Sweet Sixteen' or 'The Thrill is Gone,' but it seems unlikely that the prepubescent Smith could fully relate to either one – lyrically at least.
Certainly the somber times described in 'Thrill' would have been well beyond a six-year-old's grasp. Even the adolescent sweetness of 'Sixteen' would have seen foreign to him. But something clicked all the same, and young Josh Smith was hooked.
Blues Boy To Blues Man
At twelve, Smith began begging his parents to give him rides to local jam sessions that typically featured players much older than him. The audience, floored by this budding star's youth, 'freaked out' in Smith's words. He would later describe their frenzied reaction as 'The best feeling ever.' After the triumph of those jam sessions, Josh Smith had never had a plan B. It seemed he didn't need one.
It didn't take long for him to graduate from jam sessions to actual paying gigs. By thirteen, he became the lead guitarist in the Rhino cats, hose band for a popular bar in his native Florida called Club M.
The transition from child prodigy to grown-up star happened quickly for Smith and without much time to catch his breath. Among the many challenges presented by the transition is the question of which genre to emphasize. For a musician who grew up past the heydays of the blues, this had to have been a difficult one. Smith's answer is thoughtful and complex.
"Sometimes you get stuck because people want either one of two things: either traditional blues, or this heavy, rock blues where guitar players are shredding. There's no real "in-the-middle" anymore. I'm trying to bring all of my other influences into the blues and trying to make something unique. I've spent thirty years playing guitar and working and playing all styles of music, but no matter what I do, it's going to be based in blues."
Recommended Album
With a talent for guitar playing as extraordinary as Smith's it's easy to see how his picking skills may overshadow every other element an album has to offer. Not surprisingly there are times when the guitar guru's six-string skills cast an inescapable shadow on his vocals, his lyrics and the best efforts of his band mates. But in the end, Over Your Head is a strong album – if only as a document of Smith's prodigious talent.
The instrumental 'And What' may be the album's highlight. But for those seeking more than guitar heroics, 'Still Searching' is a sensitive and thoughtful mid-tempo ballad that shows there's more to Josh Smith that his highly skilled fingers.
Over Your Head
As an Amazon Associate I earn from qualifying purchases.
The Sideman Blues
As frustrating as it must have been for Smith to deal with the simplistic either/or of traditional blues VS. heavy rock blues, another uncomfortable either/or presented itself when Smith pursued work as a session guitarist while also hoping to get his solo work recorded. Here's what he had to say about the challenged of doing both at the same time:
"There's nothing wrong with being both—it's just difficult to balance. When I moved to L.A., I kind of gave up doing my thing for a while because I needed to be able to find a way to make a stable living, because this is my only skill—playing guitar and being a musician."

"I came out here thinking I would just go out on tour with other artists and be just a guitar player for a while—and that was great. But then I signed a record deal with a company in Germany, and in fact this year will be the most I've played of my own music in probably twelve years. I've easily spent half of this year doing just my stuff. It's a great feeling, but it's really hard to balance because you'll get called for a tour that pays really well and it might interfere with doing your own thing. I'm still trying to work on balancing it right now."
So while Smith struggled with maintaining balance, his admires face far more enviable challenge of having do decide between which of his solo albums to listen to. To date, there are many to chose from. The most notable ones are: Don't Give Up on Me, I'm Gonna Be Ready, Inception, and the latest, Over Your Head. In the end, there are no bad choices here, because, to paraphrase Smith himself, It's all seeped in the blues.
The instrumental 'And What' the highlight of the album Over Your Head.