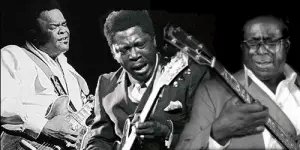 While they didn't establish the genre B.B., Albert and Freddie King are without a doubt the biggest names in Blues, and while they are no longer with us today their influence continues to be felt to this day. But are the Three Kings of Blues all related to each other?
You'd be surprised to found out that they aren't!
Both Albert and Riley 'B.B.' (short for 'Blues Boy') King were both born in Indianola, Mississippi, in the heart of the Delta. Albert was born in 1923 and B.B. in 1925; Freddie, however, was born in 1934 in Gilmer, Texas, and was known as Freddie Christian. Albert was born with the surname Nelson, which didn't change until later on in his career.
The First Star
B.B. King was the first to achieve success after releasing his first hit single '3o'clock Blues' in 1951, which topped the R&B charts for an impressive 15 weeks. Thus began a lengthy streak of chart-toppers records throughout the 50's and beyond, including 'The Thrill is Gone', 'Lucille', and 'Rock Me Baby'. He also performed and toured extensively throughout his life, spending time on the road for long stretches of time and performing as many as 300 shows in one year. Kings don't spend their reign on thrones-they go out and conquer.
The Lone Star King
Albert Nelson's road to success was a tough and patchy one that saw him trek far from the Delta and into the city, settling first in Chicago and then St. Louis. While in Chicago he made his name working with local label Parrot Records and took on the name 'Albert King' as an attempt to be associated with B.B.. Unfortunately, things didn't work as planned, which caused him to move to St. Louis.
It was there that he began to truly make his name in the club scene there, developing his trademark minimalistic guitar playing on his Flying V guitar and making waves until his fortunes improved with Bobbin Records. One figure who aided in his growth was Syd Nathan, a record executive from Cincinnati who owned a number of labels, most notably King records. From there Albert released his hit single, 'Don't Throw Your Love on Me So Strong' in 1960, and his successful album, 'The Big Blues' in 1962.
The Fury
Meanwhile the West side of Chicago was witnessing a Blues revolution: a shift in style was occurring, from mellow to agitated-from sad to angry. The old slide sound pioneered in the Delta remained, but there was a new emphasis on a distorted and pick-heavy style. The forces behind this shift include the likes of Buddy Guy, Magic Sam, Otis Rush, who were often joined on-stage by a young Freddie Christian, who spent his days working in a steel mill.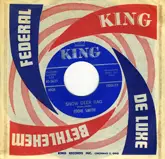 Freddie proved to be no ordinary guitarist and invented his own style: a unique hybrid of thumb-picking and finger-style playing. This caught the attention of King/Federal Records' A&R Sonny Thompson, an accomplished pianist and bandleader. Sonny took the young guitarist under his wing for a number of works, including the breakout 'Mellow Blues for the Late Hours'.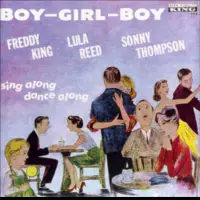 Sonny put out 'Mellow Blues for the Late Hours' featuring Freddie on guitar, billed as 'Freddie King'. By now the youngster was known as 'Freddie King' after taking his mother's surname, and under Thompson's guidance King rocketed to stardom in the 60's. This period saw the release of his classic albums 'Boy-Girl-Boy' ('62), 'Bossa Nova and Blues' ('62) and 'Freddie King Goes Surfing' ('63), but it was his hit singles 'Hideaway' and 'The Stumble' that earned him his spot among the Three Kings of Blues.
A Shared Title
King Records was instrumental in crowning both Freddie and Albert King, and maybe the reason for their sharing the same alias: B.B. was the brightest star in Blues at the time, often compared to the likes of
Muddy Waters
 and Howlin' Wolf. This decision may have been made on marketing grounds in addition to the artists' personal choices; Needless to say, it definitely worked in their favour, but Albert ended up finding more success with Memphis-based Stax Records, with whom he released his legendary single, 'Born Under a Bad Sign'.
Across the Big Blue Sea
Although popular in America it wasn't until the 'British Invasion' of Blues that it earned more mainstream success both in America and across the Atlantic. This brought it to the ears of where it influenced many future giants of Rock and Roll. Eric Clapton, for example, was heavily influenced by Freddie King; the sharp aggressive guitar work rubbed off on the young Clapton and can be heard in the latter's playing, including 'Cocaine' and 'Layla' while he was still with The Dominoes.
The Final Resonance
B.B. King undoubtedly stands the tallest among Blues titans, but both Freddie and Albert deserve their titles: B.B. spoke through his guitar Lucille with a slick and seductive tone, Albert had his emotional one-note punches, and Freddie's hard-hitting playing laid the foundation for generations of Blues and rock musicians for years to come.
It's no surprise that labelling them as 'Three Kings' has led to years of confusion among journalists and fans, owing to their shared last names. But that didn't seem to bother the men themselves: whenever people asked B.B. if he and Albert were related, B.B. would laugh and answer , "He's not my brother by blood, but he is my brother in Blues."