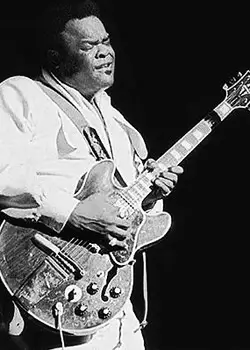 Freddie Christian was already an accomplished player when he moved from Texas to Chicago as a teenager in 1950. Son of JT Christian, the young man was taught guitar by his mother Ella Mae King and her brother Leon, and he had an eloquent and dextrous style reminiscent of T-Bone Walker, who was a big star in Texas when Freddie was growing up. In Chicago, he was influenced by the work of Robert Lockwood and Eddie 'Playboy' Taylor, both Delta Blues players. Later he incorporated more crisp and emotive lines in the style of Otis Rush and Magic Sam who were 'ripping up the rules' around the West-side clubs at that time. Freddie sat in with many groups at these clubs, making a reputation for strident and incisive statements. His powerful and distinctive style was emerging.

The young Texan recorded with Little Sonny Cooper, Earle Payton's Blues Cats and Smokey Smothers, before signing with King/Federal. As 'Freddie King' he reverted to his mother's surname, probably encouraged by his label to associate himself with one of the biggest stars in town, BB King. (See The Three Kings) Freddie's first solo releases included the influential instrumental 'Hideaway', which topped the R&B Charts and featured in the Hot 100. His sharp, assured manner with the guitar was matched with a light, relaxed vocal delivery, and Freddie formed a band which toured and recorded for many years, working closely with King/Federal's A&R man Sonny Thompson. They put out seven albums in five years, and his songs '(I'm) Tore Down' and 'Have You Ever Loved a Woman' were substantial hits and were extensively covered by other Blues bands. Freddie's explosive style led to him being billed as 'The Texas Cannonball'
Freddie plays 'Hideaway' on TV in 1966. Can you spot Clarence 'Gatemouth' Brown leading the House-band on second guitar?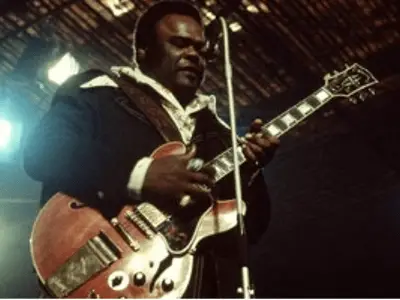 Over in Britain, Freddie's direct and distinctive style was a big influence on the young Eric Clapton. When Eric quit the Yardbirds because their style was starting to lean towards pop songs, he was determined to establish a hard-edged  kind of Blues at the heart of his music. When Eric cut the 'Beano' album with John Mayall a few months later, Pete Brown remarked that Eric had "had a big dose of Freddie King". Around the British club scene, Stan Webb fronted a successful band called Chicken Shack with Christine Perfect (McVie) on keyboards, that relied heavily on Freddie's style, which was a by-word for searing guitar licks.

The
British Blues Explosion
gave new impetus to young American Blues players, both in record sales and touring opportunities, and Freddie enjoyed huge success 'across the pond'. In 1970 he joined Leon Russell's Shelter label and recorded a fine album 'Getting Ready' at
Chess
Studios, including the much covered track 'Going Down'. Live recordings in these years, including some scintillating guitar battles with guest players, showed that he could still crank up amazing energy. Eric Clapton played a lovely duet with Freddie on his 1974 album 'Burglar'.
Sadly, Freddie was called before his time, dying of heart failure in Dallas in 1976.
Freddie makes his guitar sound like a breaking heart at this concert in Sweden, 1973;