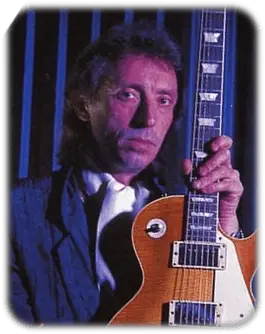 Stan Webb was at the heart of the British Blues Boom as he led his band Chicken Shack around the Blues club circuit in the late 60s.
Londoner Stan played guitar in skiffle groups before forming his own band in 1965, playing a series of residencies in Hamburg, Germany over the next couple of years.
When the band signed for the new Blue Horizon label in 1967, they were called Chicken Shack and consisted of Stan on guitar, Christine Perfect (later McVie) on piano, drummer Dave Bidwell, and bassist Andy Sylvester, who later played with Foghat.
In 1968, they released their album '40 Blue Fingers, Freshly Packed and Ready to Serve', and opened a big tour for labelmates Fleetwood Mac.
Their most popular number was a version of 'I'd Rather Go Blind', the Etta James standard, sung by Christine Perfect. Stan himself had a true Blues sensibility, and an excellent guitar technique, closely modeled on Freddie King.
Five years of constant touring and recording followed, and the pressures of this crazy lifestyle led to many changes in personnel, including Christine Perfect switching to Fleetwood Mac.
Recommended Album
Chicken Shack sold a lot of records, and this collection shows what British Blues was all about.
In 1974, Stan dissolved Chicken Shack and joined another British Blues band, Savoy Brown, but returned a year later with 'Stan Webb's Chicken Shack'.
This band, with an ever changing roster of side-men, has continued to support Stan up to the present, playing regularly in the UK and touring Europe. After almost 50 years on the road, Stan still carries the torch for British Blues.
Chicken Shack's first single, with Christine Perfect on vocals;