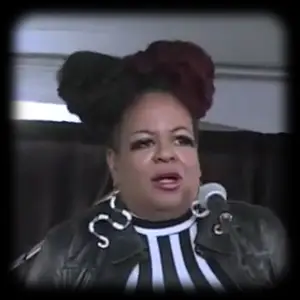 A woman who can sing the Blues with an authentic growl a smooth, seductive contralto and a big, sweet toned range will always be in demand, and West-coast star Lady Bianca fills that bill perfectly. She is not well known around the world, or even across the nation, but her big, rounded voice has been heard behind some legendary performers. Starting her recording career late, Bianca has put down some scintillating Blues on her albums, and continues to move audiences wherever she goes.
Bianca Thornton was born in Kansas City in 1953, where she developed her Gospel tones in Church. Bianca received her 'enoblement' at the age of 17, when she sang with Quinn Harris's band The Masterminds, and 'Lady Bianca' has been her enduring performing name. She studied at the Conservatory of Music in San Francisco, and singer Jon Hendricks cast her in the rôle of
Billie Holiday
in his production 'Evolution of the Blues' at San Francisco's Off-Broadway Theatre. Bianca married bass player Henry Oden and then joined Sly and the Family Stone as a backing singer and keyboard player. She also toured as a backing singer with Frank Zappa and appeared on his 1976 album 'Zoot Allures'. When not on tour, Bianca found work on the Bay Area club scene and recorded with artists as diverse as
Taj Mahal
and Merle Haggard.
Van Morrison
recruited Bianca as a backing singer for many years, featuring on five of his albums, and she added her talents to work by
John Lee Hooker
and
Willie Dixon
.
Lady Bianca packs it all into one song!;
In 1984,some demos recorded with second husband Stanley Lippitt came to the attention of
Joe Louis Walker
, leading to deal with Telarc Records, who released her first album 'Best Kept Secret'. 'Rollin' ' followed in 2001, to much acclaim, but her four subsequent albums have been issued on her own Magic-O label, set up with husband Stanley. The Magic-O Rhythm Band has appeared at many West-coast Blues Festivals and in 2013 they released the album 'Real People Music' .