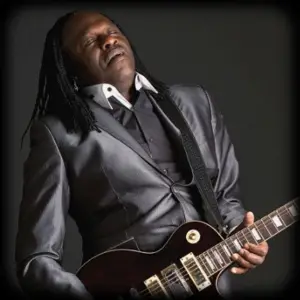 With a sharp-edged guitar tone and the voice of a Soul star, Joe Louis Walker does his share to keep the Blues moving forward. Equally at home with old Blues tunes, funkier dancable grooves and Gospel flavoured Blues ballads, Joe has led his band the Boss Talkers around the world for over 25 years.
Joe Louis Walker was born in San Francisco in 1949 into a family that filled his ears with good music. He picked up a guitar when he was just 8 years old, and as a teenager he started out playing local clubs and bars, as the mid-60s Blues revival got under way. In 1968 he formed a friendship with Mike Bloomfield, and this connection opened the door for him to play with many visiting Blues players, like John Lee Hooker, Magic Sam, Muddy Waters, Earl Hooker and many more.
Under this influence, Joe's guitar work developed a certain 'old-school' quality, but he also had the voice of a Soul singer, with a light tone and agile delivery. In the early 70s, Joe was playing bars and clubs in Vancouver when he decided to give up playing and returned home to continue his education. He took up singing with a Gospel choir, and he also shared an apartment with his friend Mike Bloomfield, and Mike's untimely, drug-related death in 1981 had a deep effect on Joe. A performance with the Gospel group at the Heritage Festival in New Orleans in 1985 re-awakened his interest in the Blues, and he took up his guitar again.
Great contemporary live Blues from Joe;
A European tour with some
Delta Blues
players inspired Joe to form a band when he returned to San Francisco, and his Boss Talkers were signed by the High Tone label in 1986. His largely self-written debut album 'Cold was the Night', announced the arrival of a big new talent. Two more High Tone albums confirmed that introduction, with Joe's aggressive guitar sound and great voice winning him fans on a national and international scale. The 90s saw several more great albums, including 'JLW' with guest
James Cotton
, and he recorded a duet version of his song 'Everybody Got the Blues' with
BB King
on the Grammy winning 'Blues Summit' album in 1994. Joe always put on a great live show, some of which gave a showcase for the young
Alvin 'Youngblood' Hart
, and he appeared at Blues Festivals all over the world. Another Grammy came along when he played guitar for James Cotton's album 'Deep in the Blues', with regular touring and a stream of his own records maintaining Joe's profile as a hard working performer.