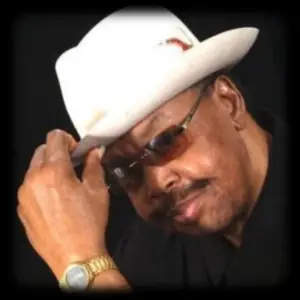 Lee 'Shot' Williams was a Blues singer from Mississippi who ended up in Chicago's West-side in the late 50s. His vocal powers got him a record deal, lot of gigs fronting some great bands, and he continued his career as a 'Southern Soul' singer well into the new century.
Henry Lee Williams was born in Lexington MS in 1938 and was known as 'Shot' (as in 'big-shot') by his mother for his habit of spending his every last dime on clothes. He would hang around juke-joints with his cousin Smokey Smothers and a bunch of musicians they knew. It was clear that Shot had a great voice, but he didn't get to use it professionally until he moved North. Detroit was his first destination in search of work, but when Smokey relocated to Chicago in 1958, Shot soon went there to join his cousin's band.
He also got a gig singing with
Magic Sam
's band and, in 1962, made his first record as a solo artist. 'Hello Baby' on the Foxy label, was a typical West-side offering of the day, with harp AND trumpets. Shot released singles on several labels over the next few years, the most successful being 'Welcome to the Club' on
King/Federal
, which was later covered by
Little Milton
.
Lee's first record, 'Hello Baby';
During the mid-60s, Shot toured with Earl Hooker's band, then worked with Bobby 'Blue' Bland and Little Milton. Shot's first album came in 1977, but 'Country Disco' was not a success. He relocated to Memphis to try his hand at Soul/Blues, with some success, and a guest spot on Smokey Smothers album got him a deal to record the 'Cold Shot' album with some experienced Blues musicians. It was a critical success, and the follow up 'Hot Shot' the next year established him as a genuine Southern Soul star. It started a run of 14 albums, mainly on the Ecko and CDS labels, the last two being released in 2010. Shot passed away in December 2011.