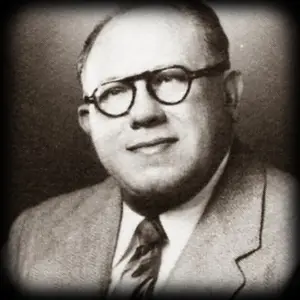 Syd Nathan was an old-school, cigar-chomping, bad-tempered label owner who didn't care much for the finer qualities of his artists, but put their records out anyway. His comment on James Brown's first effort 'Please, Please, Please' was "That's the worst piece of crap I've heard in my life." but he persevered with several follow-ups that bombed until James emerged as a big Soul star. Syd was also responsible for bringing many Blues, Country and R&B acts to fame and fortune, always taking a healthy cut himself.
Sydney Nathan was born in Cincinnati, Ohio in 1904. He wasn't blessed with good health or good eyesight, and after his schooldays Syd played drums while earning his living in real estate. After working in several retail ventures he joined his sister and brother-in-law to set up a store selling radios and phonographs. He branched out on his own to sell ex-juke box records, and built the business up to become the best record store in town. In 1943, he started the King Record label, specialising in Country and R&B music, and when he couldn't find a satisfactory pressing plant, he set up his own. When he also established a recording studio on the same premises, he made King into a fully-integrated business, from talent scouts through production to publicity and distribution. One of Syd's early signings was
Lonnie Johnson
, and his ballad "Tomorrow Night' topped the charts. Jump-Blues stars like
Lucky Millinder
,
Eddie 'Cleanhead' Vinson
and
Tiny Bradshaw
's Orchestra with
Big Maybelle
singing, brought King more hit records. Syd also set up or acquired the Queen, Federal, DeLuxe and Glory labels to cover Blues, Country and Gospel imprints.
Syd always encouraged his Country and R&B artists to record each other's material, maximising his publishing interests (under the name Lois Mann), and which also contributed to the emergence of the new hybrid that became 'Rock'n'Roll'. Syd's stable of early rockers included Roy Brown from New Orleans and Wynonie Harris from the West-coast, as their up-tempo Blues made great dance music. The King label hit paydirt in 1954 when Hank Ballard and the Midnighters record, 'Work with Me Annie' was banned from the radio by the FCC, but the resulting publicity made it a juke-box hit that sat on top of the R&B charts for seven weeks. Selling over a million copies, it provoked Etta James's No.1 'response' record, 'Roll with Me Henry' (issued as The Wallflower), and several more million-selling 'Annie' themed records for Hank, making him the best-selling R&B artist of the time.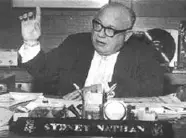 Now a successful independent label, King signed some major talents in the mid-50s, like Little Willie John and the young James Brown. James emerged from his Gospel roots to transform Soul music with his passionate singing, and he remained grateful to Syd for taking a gamble on a 'loose cannon' who could explode at any moment. King/Federal also leased tapes from smaller regional companies, and in 1959 acquired the catalogue of Bobbin Records from St. Louis. This included the work of Albert King, and resulted in several re-issued singles and an album 'Big Blue'. Albert's work was not prioritised by Syd, as he was more interested in a talented new West-side Chicago guitarist, Freddie Christian. His great singles like 'Hideaway', which was an R&B hit that also made No.29 in the Hot 100 in 1961, appeared under the name 'Freddie King'. Syd was not slow to associate Freddie and Albert, and his own King label, with BB King, one of the biggest Blues stars of the era. BB was the only one of The Three Kings born to the name, but Syd was unlikely to let such a small detail interfere with some good publicity.
Sadly, Syd's health issues were beginning to catch up with him in the early 60s, as he suffered serious heart problems, and his loss of dynamism was reflected in the company. Being implicated in the 'payola' scandal, concerning radio DJs being bribed by record companies, didn't improve his mood either. In 1968, Syd passed away from pneumonia in Miami.