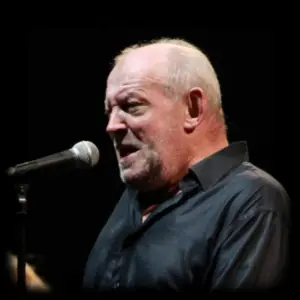 Joe Cocker's rough, testosterone-soaked Soul voice gave us some iconic records in the late 60s and early 70s. Standing at the mic, thrashing and twitching with seemingly uncontrollable passion, his vocals have a rare and beautiful emotional resonance which fills every song he sings, whether a heart-rending ballad, a high-energy rocker or a funky R&B number.
In 1944, John Robert Cocker was born in Sheffield, England, a hard-edged steel town at the foot of the Pennine Hills, and from an early age 'Joe' had a singing voice that sounded like a rusty saw-blade hacking at a knotty pine log.
He was only 12 when he began singing with his older brother's skiffle group, and before he left school Joe was leading his own band. A later group, The Avengers, played covers of
Chuck Berry
and
Ray Charles
songs, and they supported
The Stones
at a gig in Sheffield in 1963. Joe was signed as a solo artist by Decca Records, but struggled to find a hit record and was dropped. He formed The Grease Band in 1966 and, when he moved to London, got a residency at The Marquee Club. A couple of years later, Joe's cover of The Beatles song 'With a Little Help from My Friends', with Jimmy Page playing guitar, was a UK No.1 single and made the Billboard Hot 100. A tour of The States promoted an album of the same name, and Festival appearances at Newport and Denver led to Joe playing at Woodstock.
'St. James' Infirmary' from the 'Mad Dogs and Englishmen' tour;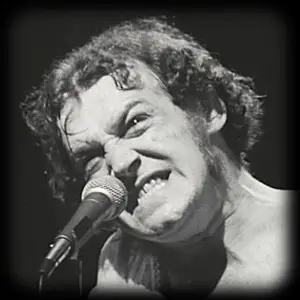 The 'Joe Cocker!' album got to No.11 in the US charts, boosted by another hit single 'Delta Lady'. The writer of that song, Leon Russell, was at the heart of the 1970 'Mad Dogs and Englishmen' tour, but the punishing schedule left Joe drained. Publicising a film, a live album and hit singles 'Feelin' Alright' and 'The Letter' and constant touring added up to too much pressure on Joe, and he returned to his family in Sheffield to recover his physical and mental health. In early 1972, Joe jumped into the deep end again, with British, European and American tours, but when they reached Australia a hotel brawl and a weed bust got Joe deported, and the tag 'Mad Dog'. A long struggle with alcohol issues, punctuated with tours and the odd hit single like Billy Preston's song 'You Are So Beautiful' took up the next decade. In 1982, Joe's duet with Jennifer Warnes, 'Up Where We Belong' was a No.1 single that won a Grammy and an Oscar for its use in the film 'Officer and a Gentleman'.
Some funky genius from Joe on 'Feelin' Alright';
Joe headlined the Glastonbury Festival in 1985, and his great version of the Randy Newman song 'You Can Leave Your Hat On' featured in the film '9 ½ Weeks' the following year, with the album it came from, 'Civilised Man', going platinum. Steady record sales, and many TV, concert and Festival appearances brought Joe into the new millennium as a British 'national treasure', and he performed at The Queen's 2002 Golden Jubilee Concert at Buckingham Palace. 'Her Madge' returned the compliment by awarding Joe the OBE in 2007.
Joe could still generate that spine-tingling vocal rush, as evidenced by his version of Jimi's 'Little Wing' on Carlos Santana's 2010 album ''Guitar Heaven', and his unmisatakable talents stayed with him right up to him losing his battle with cancer in December 2014.