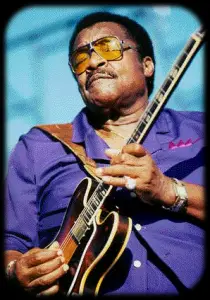 Always known as Little Milton, Mississippi singer and guitarist Milton Campbell walked the Soul/Blues borderline over a long career, but his broad spread of material may have counted against him, as he was not an easy man to pin down to a single genre. He started off playing guitar in Delta juke joints around his home town; made the scene in the clubs of St. Louis and Chicago; set up the Bobbin record label, which gave a kick-start to several fine performers; topped the R&B charts with crossover hits himself for Chess Records in the mid-60s; became a Soul star at Stax, back in Memphis; got his funk on in the late 70s; then rediscovered his strong Blues roots to become a firm favourite at Festivals all over the world in his later years.
James Milton Campbell Jr. was born in Inverness MS in 1934, the son of 'Big Milton', a farmer who played guitar in local juke-joints. Milton liked all kinds of music, including Country and Gospel and by the time he was 15, he had followed in his father's footsteps, playing guitar and singing around the district. He even got the chance to play with Rice 'Sonny Boy II' Miller, and he made some recordings backing pianist Willie Love for Trumpet Records in 1951.
He was seen by
Ike Turner
, who was working as a talent scout for
Sam Phillips
and they took Milton to Sun Studios and signed him to a two year contract but without a hit record, perhaps because Sam had bigger fish to fry once he had signed Elvis. When Milton moved to St. Louis in 1958, he befriended a local DJ, Bob Lyons, and when Milton could find no takers for his demo of 'I'm a Lonely Man', the pair set up Bobbin Records. The single sold 60,000 copies and as A&R man for the label, Milton brought in talents like
Albert King
and Fontella Bass and made some brilliant records. Bobbin signed distribution deals with
King/Federal
and Chess Records, and Milton signed as a Chess artist himself in 1961. His song 'We're Gonna Make It' topped the Billboard R&B charts in 1965, and was followed by 'Who's Cheatin' Who?', 'Grits Ain't Groceries' and 'If Walls Could Talk', which all reached the upper levels of the charts and got some crossover radio play.
The original version of 'We're Gonna Make It' on Checker Records;
When Leonard Chess passed away, Milton joined his protegé Albert King at Stax in Memphis, and developed a more soulful approach to his singing, using the house band and a lot of horns. Milton had a couple of good sized soul hits for the label and appeared at the WattStax festival in LA in 1973. When Stax went bust a couple of years later, Milton went more funky with the TK/Glades label, but that did not really work for him. After a while in the wilderness, during which time he recorded the under-rated album 'Age Ain't Nothing But a Number', Milton signed for Malaco in 1984, and proceeded to put out 14 solidly Blues-based albums over the next 18 years. One of Milton's go-to songs from this revival of his Blues career was 'The Blues is Alright', which has become a bar-band standard in it's own right. Having first appeared at Montreux during his tenure at Stax, Milton also rediscovered a loyal audience in Europe as he played the Blues Festival circuit in his later years. With regular recordings and touring, Milton was a presence on Blues stages all round the world until he passed away following a stroke in 2005.
Little Milton jamming with Jimmie Vaughan;