The Summer of Love swept a warm wind of change through the music industry in 1967. When the Beatles issued Sargeant Pepper then disappeared to India with their guru, it seems everyone was wafted away in a psychedelic haze. When the acid wore off at the end of the 60s, Rock music was in quite a different place.
'Supergroups', Hendrix and The Stones revived as a Blues band.
The previous year, Eric Clapton had formed Cream, the first 'Supergroup', with ex-Blues Incorporated players Jack Bruce and Ginger Baker. They used classic Blues songs like Skip James' "I'm So Glad', Robert Johnson's 'Crossroads' and Willie Dixon's 'Spoonful' as jumping-off points for extended power-trio jams of dazzling virtuosity. Cream lasted for only two years, but their uncompromising approach provided the blueprint for many subsequent Hard Rock bands. Their 'Disraeli Gears' album had acid-tinged tracks like 'Brave Ulysses' and 'SWLABR', but their repertoire always had the Blues at it's heart.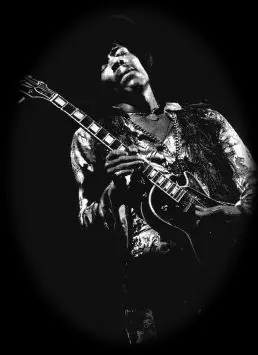 Jimi Hendrix brought his revolutionary style of wah-wah and feedback-heavy playing to Britain just as the psychedelic wave was about to break. His brilliant style and overt sexual posturing sired several generations of 'guitar heroes' but the essence of his apprenticeship as a side-man in American R&B bands were always present in his work. He had only issued three studio albums when he died in 1970.
Brian Jones of The Rolling Stones died in July 1969, and the band signalled their return to their Blues roots by recruiting the ex-Bluesbreaker Mick Taylor. After the band's  flirtation with psychedelia, Mick's contribution to the 'Let It Bleed' and 'Exile on Main Street' albums make them the best of the middle-period Stones albums, with some classic Blues-Rock anthems.
Big British bands open up the era of 'Stadium Rock';
[weaver_youtube http://youtu.be/LvSgUH0Wn-M id=videoid sd=0 percent=100 ratio=0.5625 center=1 rel=1 https=0 privacy=0]
Many enduring and influential bands were formed in the post-acid reshuffle. Jimmy Page formed Led Zeppelin from the ashes of The Yardbirds, and their fusion of Hard Rock and mysticism laid the foundations of Heavy Metal. Peter Green formed Fleetwood Mac with Jeremy Spencer and they were probably the best Blues Band around before both guitarists fell victim to mental problems. The resurgent Mac opened up the era of Adult Oriented Rock by recruiting Christine Perfect (later McVie) from Chicken Shack, a popular band on the Blues circuit, fronted by the Freddie King influenced guitarist Stan Webb. Jethro Tull began as a Blues band with the unique novelty of having Ian Anderson's flute as lead instrument. They went from playing pub gigs to filling giant stadiums with the rise of Progressive Rock, and Deep Purple and Black Sabbath were not far behind them. Jeff Beck made two great Blues albums (Truth and BeckOla) with Rod Stewart on vocals, before suffering a massive car-crash. Rod went on to big sales with The Faces and his solo career, but Beck turned to Jazz Rock with Blow by Blow and Wired. Bands like Free, Ten Years After, Family, Traffic, Savoy Brown (later as Foghat), and Bakerloo were growing from their Blues roots into a thousand exotic blooms.
The much underated Savoy Brown;
[weaver_youtube http://youtu.be/qlqqeobOJvg id=videoid sd=0 percent=100 ratio=0.5625 center=1 rel=1 https=0 privacy=0]
Crossroads with many ways forward.
As the swinging Sixties drifted into the past, Rock Music stood at a crossroads, with many paths leading forward. Hard Rock, Progressive Rock, AOR, Jazz Rock and Heavy Metal were all busy being born. This music came from people who had started out trying to copy the players they loved and incorporating part of that style into their own stuff. "They used the language of the Blues to create something new, unique and personal that had nothing to do with Chicago or the Delta, except that is where the language came from." said Jack Bruce.