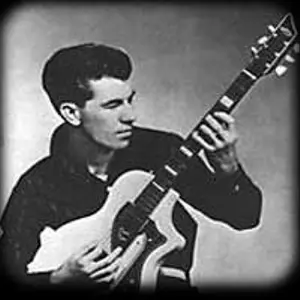 Link Wray may not be a major Blues player, but in 1958 he took the dirty sound of distorted electric Blues guitar and came up with the 'power chord' that a new generation of guitarists incorporated into their music in the 60s to give us 'Blues Rock'. Like many pioneers, Link took a simple idea and exploited it to open up a whole new world of possibilities. He created an ominous, brooding guitar tone that has become a common feature in our collective consciousness due to its use in many films and TV shows. He composed some of the most iconic tunes of the 20th Century and had a later career as a Rockabilly star.
Fred Lincoln Wray II was born a Native American Shawnee in Dunn NC in 1929. They were a dirt-poor family and a difficult birth left Link, in his own words, "a slow learner". He first heard slide guitar played by a man called 'Hambone' when a carnival came to town when Link was 8 years old. Hambone showed the kid how to tune a guitar and how to use a bottleneck and Link, realising he was never going to be an ace fingerpicker, set about finding his own sound. Link was drafted into the Korean War, and he came home with severe tuberculosis which permanently damaged a lung and prevented him from singing. He played guitar when he formed a band, with his brothers Vernon and Doug, which eventually became known as The Wraymen. Link began developing a strange, echoing guitar sound that was the genesis of 'the power chord', as the brothers played a range of music covering Western Swing and Rockabilly. They got a gig as the house band on a local TV show, backing stars like
Fats Domino
and Ricky Nelson, and picked up a recording deal with a small local label, Starday. The band came up with a weird 'eleven-and-a-half bar Blues', they called 'Oddball' which always had live audiences calling for it over and over. When it was released on record as 'Rumble', it was a major hit and an iconic piece of music was launched into the world. Pulp Fiction, Independence Day and The Sopranos are among the dozens of movies and TV shows that have featured Link's awesome and menacing signature tune. 'Ace of Spades' also featured in Pulp Fiction and very many of Link's compositions are featured in other visual media,  so his music has been part of the soundscape of many generations of people who have never even bought a record, let alone a Link Wray disc.
The original version of 'Rumble';
Link followed 'Rumble' with a stream of strong instrumentals like 'Rawhide', 'Jack the Ripper', 'Shawnee' and 'Comanche'. That guitar sound had a deep effect on many British bands who were using the vocabulary of the Blues and R&B to power their own Blues Boom. Link had a strong and loyal following in Europe from that time onwards, and that affection was a factor in him spending a large part of his life there. In the mid-60s, Link 'retired' and moved to Arizona, but he popped up again on the San Francisco scene in the early 70s, playing around the Bay Area and singing in a rough tone. Link toured and recorded a couple of albums with retro-Rockabilly star Robert Gordon as well as releasing his own albums like 'Bullshot' and 'Stuck in Gear'. Link married a Danish lady, Olive, and they moved to her homeland in the 80s, using it as a base for European touring and occasional trips to the USA, until he passed away in Copenhagen in 2005.
Link is remembered as a pioneering guitarist, whose booming sound and powerful sustained chords permeated Rock'n'Roll, Metal, hard rock, surf music and even punk. Modern guitarists like Jimmy Page,
Jack White
and
Joe Bonamassa
have incorporated elements of that distinctive sound into their music and the whole world recognises that sense of tension and anticipation when a Link Wray riff turns up on a soundtrack. Perhaps he is the Master of the Eleven-and-a-half bar Blues!