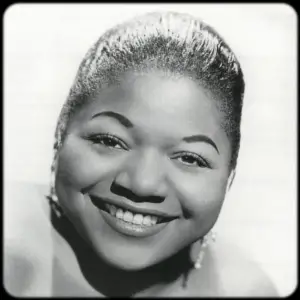 Big Maybelle lived her life at double speed, packing an awful lot of living into a few years. A big voice, with a big personality and a big woman all round, Maybelle had dozens of R&B chart hits and some successful crossover singles in the 50s, and made the charts as late as 1967, but heroin and health problems took her life while she was still in her mid-40s.
Mabel Louise Smith of Jackson TN was a precocious child who won a Gospel singing contest in
Memphis
when she was only 8 years old. Four years later, in 1936, she started her professional career, first with Memphis band leader Dave Clark and then with the all-girl swing group, the Sweethearts of Rhythm, who toured extensively in the South. Mabel's first recordings came in 1944 with pianist Christine Chapman, and then touring with
Tiny Bradshaw
's Orchestra resulted in several more sessions with Tiny and Oren 'Hot-Lips' Page for the
King
label in Cincinnati. When Columbia revived the Okeh label in 1952, Mabel was re-branded as Big Maybelle and soon her 'Gabbin' the Blues' got near the top of the Billboard R&B Chart.
Big Maybelle's first solo record, 'Gabbin' the Blues';
Maybelle was a pretty woman and her voice had great range and dynamic qualities: she could belt out the Blues like Big Mama Thornton or handle a sensitive ballad like a smoky night-club singer. Three of Maybelle's records went into the R&B Top Ten in 1953, and her live performances at prestige gigs like The Apollo and The Regal in Chicago confirmed her talent and popularity. Quincy Jones produced her hit version of 'Whole Lotta Shakin' Goin' On' two years before Jerry Lee Lewis's cover and, in 1956, her cut of Johnny Mercer's 'Candy' made number 15 in the pop charts and was the best selling record the Savoy label had at that point. Maybelle featured at the 1958 Newport Festival and it's documentary film 'Jazz on a Summer's Day', and her records continued to find the charts for Savoy, as she effortlessly moved from Gospel to Blues, R&B and Rock'n'Roll. Contract disputes between Savoy, Vanguard and MGM caused Maybelle's career to stall, and her alleged taste for heroin didn't help matters either.
'Way back Home' from the early 50s;
Maybelle continued to record during the 60s for Brunswick and
Chess
before hitting the charts again in 1967 with '96 Tears' for Rojac Records. This was to be her swan-song, and she performed less and less before eventually retiring to Cleveland. In 1972, her continued drug use led to her passing away in a diabetic coma at the age of 47.