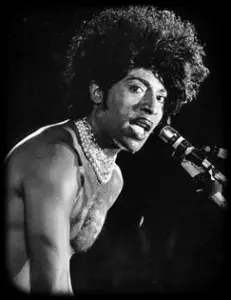 If you took a Gospel shouter, some pounding New Orleans piano R&B, some very cheeky lyrics and an outrageous stage personality, you still wouldn't quite have the phenomenon that is Little Richard. As R&B and jump-blues transformed into Rock'n'Roll in the mid-50s, Richard was at the cutting edge, all over the radio, the juke-box and the record charts. His influence was felt in many of the British bands who would bring the Blues back to America a decade later, and his stage act showed that a touch of glamour added to his image, a point picked up by the soul legends who would follow him.
Richard Wayne Penniman was born in Macon, GA in 1932, where he sang in church and learned piano. He sang onstage with Sister Rosetta Tharpe when he was 12, an experience that is said to have fundimentally shaped his future. Two years later, perhaps troubled by his homosexuality, Richard left home to join a succession of travelling minstrel bands. While touring on the 'chittlin' circuit' with a show, Richard met Billy Wright, an R&B singer who favoured make-up and female clothes while belting it out Gospel style. In 1951, Billy arranged for his band to back Richard on four tracks for RCA/Victor and they had a minor local hit with 'Every Hour'. Playing R&B around Georgia and New Orleans, Richard thought he had earned a breakthrough when Don Robey called him to Houston to record with Johnny Otis for the Peacock label. The results were awful and never released.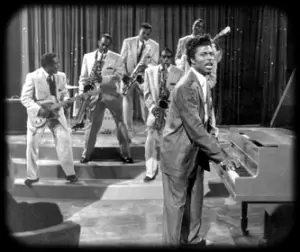 Back in New Orleans, Lloyd Price got Richard's demo heard at Art Rupe's Specialty Records in 1955, and once the lyrics to 'Tutti Frutti' were cleaned up, the sax and piano-led rocker hit the charts. White-bread crooner Pat Boone covered the song and his version did even better in the Billboard Hot 100. Richard's next release was 'Long Tall Sally' and Pat Boone covered that too, but this time the public recognised the real deal, and Richard had his first crossover hit. They got even bigger with 'Slippin' and-a-Sliding', 'Rip It Up', 'Lucille', 'Keep-a-Knockin', 'Good Golly Miss Molly' and 'The Girl Can't Help It'. The latter was tied in with a film of the same name, and Richard also featured in 'Don't Knock the Rock' and 'Mister Rock and Roll', bringing his pompadour hairdo, eyeliner and flouncy clothes to a much wider audience as the Rock'n'Roll phenomenon swept America and the youth of the world.
Heavyweight saxes and thumping piano helped to turn jump-Blues into Rock'n'Roll
In an astonishing career move, Richard retired from music in 1957 to enter Oakwood College in Alabama to study to become a preacher. He was tempted back on-stage to tour Britain in 1962 and 1963, where he was backed by various bands including The Beatles and The Rolling Stones, as a heart-felt tribute. Encouraged by this, Richard returned to Specialty and had a hit in 1964 with 'Bama-Lama-Loo'. For many years, Richard's career alternated between the church and not-quite-successful comebacks. His engaging personality made him a welcome guest on TV talk shows, so it was easy for him to maintain his profile, and the advance of Gay Liberation meant Richard's homosexuality need no longer be an open secret.
Sixty years on, and it still works!
Richard continued to tour and record, to make cameo appearances on film and TV and to act as a minister of the church; he officiated at the weddings of Bruce Springsteen, Bruce Willis and Demi Moore, Tom Petty, Cyndi Lauper and Steve Van Zandt. In the bigger picture, Richard was an iconic figure in the crossover from R&B to R'n'R; from a predominantly local black music to a multi-racial world music; and in the acceptance of flamboyant Gay performers.
After struggling with Bone Cancer for two months Richard passed away at the age of 87.