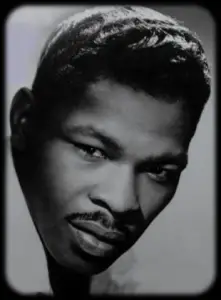 Lloyd Price burst onto the New Orleans R&B scene in April 1952 when his song 'Lawdy, Miss Clawdy' hit the top of the national R&B charts. With Fats Domino banging out his piano triples and producer Dave Bartholemew's 'big beat', it was one of the best selling records of the year. Lloyd went on to huge crossover success in the Billboard Hot 100 and, after twenty years in music, the business-savvy Lloyd became a boxing promoter, then twenty years later staged a musical comeback with some of his old contemporaries. Remembered as 'Mr. Personality' after one of his biggest hits, Lloyd is a very successful businessman.

In 1933, Lloyd was born in the Kenner suburb of New Orleans, where his mother ran a fish-fry restaurant with a juke-box. Here, Lloyd and his kid brother Leo gained a love of food and they also heard a lot of records by
Louis Jordan
and
Amos Milburn
, so it was no surprise when the boys formed a band to play at local parties. Dave Bartholemew brought them to the attention of
Art Rupe
of Specialty Records, and the teenager's first recording session included 'Lawdy, Miss Clawdy'. Suddenly Lloyd was a star and he had four more chart singles out on Specialty before being drafted and sent to Korea in 1954.
This is the original hit version with Fats Domino on piano and Herb Hardesty on sax;
When he got back from the war-zone, Lloyd formed his own KRC label, which ABC-Paramount gave national distribution and their faith was rewarded the following year when Lloyd's 'Stagger Lee' went to the top of the Hot 100 as well as the R&B charts, and made #7 in Britain. 'Personality' and 'I'm Gonna Get Married' both made the Hot 100 top three, and 'Lady Luck' and 'Question' were among twenty chart singles Lloyd recorded before starting another label, Double-L with his partner Howard Logan in 1962. This was the vehicle for Lloyd's future output, as well as picking up talent like the young Wilson Pickett. This morphed into the Turntable label, and clever businessman Lloyd opened a smart club of the same name in New York, but when Logan was murdered in 1969, Lloyd backed away from the music business.
The old Blues standard 'Stagger Lee' gets the New Orleans treatment;
Lloyd went into partnership with Don King to set up Muhammad Ali's historic fights, 'The Rumble in the Jungle', where
BB King
played at a music festival as part of the 'hoo-ha', and also 'The Thriller in Manilla'. Music took a back seat as Lloyd built up his businesses, both as a property developer and owner of a food production and branding firm, specialising in Southern-style foods. In 1993, Lloyd joined rockers
Little Richard
and Jerry Lee Lewis on a tour of Europe, and the performing bug bit again. He performed at various Festivals including the great New Orleans Heritage Festivals, and occasionally toured with R&B shows. Lloyd published his autobiography 'The True King of the Fifties' in 2011, and currently lives in New York state.