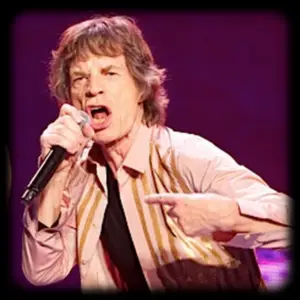 The Rolling Stones are sometimes called the Greatest Rock'n'Roll Band in the World. They are certainly one of the most enduring. They have re-invented themselves countless times over the decades, embracing many styles and starting a few of their own, but in the beginning they were definitely a Blues Band.
Mick and Keith met on a train in Dartford, when Keith noticed a Muddy Waters album that Mick was carrying. They started playing Blues with a friend, Dick Taylor, and soon they heard about the Ealing Blues Club run by Alexis Korner. Here they met Elmo Lewis (Brian Jones trying to be Elmore James), and pianist Ian 'Stu' Stewart.
Their first gig as The Rollin' Stones was at the Marquee on 12
th
July 1962, with Dick on bass and Mick Avory on drums. The start of 1963 saw the original lineup of the Stones emerge. Dick Taylor returned to college, but would soon form The Pretty Things, and Mick Avory later became the drummer with The Kinks. Bill Wyman joined on bass, along with Alexis Korner's highly rated drummer, Charlie Watts. New manager Andrew Loog Oldham didn't think pianist Stu looked right, so even though he recorded and toured with the band until his death in 1985, he was never officially a 'Stone'.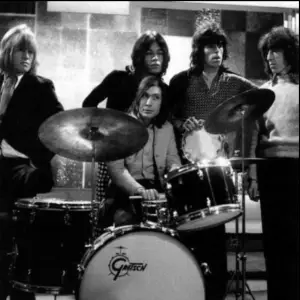 Their first record in July 1963, a cover of Chuck Berry's 'Come On', got them some TV coverage. Weeks later they recorded a song 'given to them' by Lennon and McCartney, 'I Want to Be Your Man', which was a Top 20 hit. The Beatles were leading the way as new guitar bands stormed the charts, and soon British youth was divided into Beatles fans and Stones fans. This 'mutual rivalry' extended to not releasing their singles too close together, so over the next few years the two bands dominated the top of the charts. In September 1963, the Stones set out on a 30 date tour with Bo Diddley, the Everly Brothers and Little Richard.
1964 was a seminal year for the Stones. Their first album hit No.1, and they began a tour of America. They recorded their No.1 hit 'It's All Over Now' at Chess Studios in Chicago, where they met Muddy Waters, Chuck Berry and Willie Dixon. Later that year their version of 'Little Red Rooster' went to No.1 in the UK, the only instance of a pure Blues song topping the pop charts. Their appearance on The Ed Sullivan Show caused a riot, and they insisted Howlin' Wolf should be with them on 'Shindig', giving him unprecedented exposure on network TV.
The Stones play some Howlin' Wolf on an early TV appearance;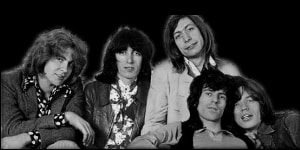 The first few Stones albums are full of songs by Muddy Waters, Howlin' Wolf, Bo Diddley, Jimmy Reed and Willie Dixon. They flirted briefly with psychadelia in 1967, but soon returned to their roots with classic albums like Beggars Banquet, Let It Bleed, Sticky Fingers and Exile on Main Street. Brian Jones died in 1969. His replacement Mick Taylor had formed his own Blues-rock band The Gods before being recruited by John Mayall's Bluesbreakers. When he left in 1975, the Stones old friend Ronnie Wood stepped in. The Stones used Blues forms in their own songs like Stray Cat Blues and Let It Loose, and their continued choice of tracks by Slim Harpo, Fred McDowell and Robert Johnson, meant that the Blues was never far below the surface of their music, even into the 21st century.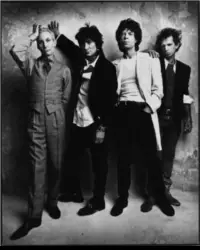 The Rolling Stones' greatest service to the Blues was to recycle America's most potent and creative musical form back to itself. Following on from the Beatles and disguised as a pop group, the Stones helped to subvert the racial divide that crippled American society. Blues artists who could not get TV exposure, radio airtime and national record distribution simply because of their colour were being presented with new opportunities. The 'Uncle Tom' music that was was seen as old fashioned by Black society, and invisible to White society, was suddenly thrust into centre stage. As a result, Hard Rock, Country Rock, Metal and a host of sub-genres were kick-started by the powerful drive that comes from the Blues. At their core, The Stones have always been a Blues Band, and the changes they have gone through over the years reflect the way Blues music has been re-invented by people who feel the force of its humanity.
The Stones take The Blues into Stadium Rock;
This time the Delta that nurtured the Blues wasn't in Mississippi, it was the Thames Delta. It's heart wasn't in Clarksdale, it was in Dartford!