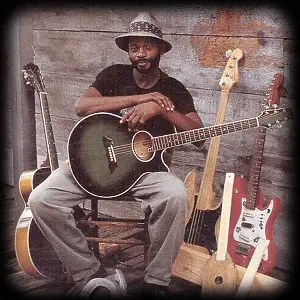 Lonnie Pitchford is one of a very few Bluesman who have mastered the diddley bow, a one-stringed instrument of African origin that was the starting point for the 'bottleneck' and slide-guitar techniques that are fundamental to the origins of Blues in the Delta. Despite his unique talents, he is not well known outside his region except for those with a specialist interest in Roots Blues.
Born just east of the Delta in Lexington MS in 1955, Lonnie came from a musical family and, at the age of five, made his first diddley bow from some guitar parts he found in the house. Soon he was playing at parties with his Dad and brother, who played piano and guitar. Lonnie obviously had a feel for the music too, playing 6 and 12-string guitar, bass and piano at local juke-joints and Blues Festivals in the 70s. Like other Delta Blues aficionados Super Chikan and Seasick Steve, Lonnie made his own instruments, both acoustic and electric, and when he wasn't playing, he earned a living as a carpenter.
In October 1980, a field recording unit headed by Siegfried Christmann arrived in Lexington, and Lonnie cut six tracks, mainly on his one-string guitars, and they later appeared on several Blues Roots compilation albums. It also led to Lonnie joining the American Blues Festival tour of Europe in 1983, with four of Lonnie's songs making the tour album. The National Downhome Blues Festival in Atlanta, promoted by Dave Evans and George Mitchell featured Lonnie, and six more tracks graced the album of the event.
Lonnie plays the National Downhome Blues Festival;
A period of silence followed, although Lonnie probably played plenty of local gigs, and at some point he met
Robert Jr. Lockwood
, and learned first hand from this step-son of
Robert Johnson
, and he also played several times with another Johnson associate,
Johnny Shines
. In 1991 Lonnie took the stage at the Smithsonian Festival of American Folk-life in a tribute to 'The King of the Delta Blues', Robert Johnson, and again he featured on the subsequent album. The following year,
Robert Franklin Palmer
made his seminal documentary film 'Deep Blue', with a performance from Lonnie of 'Terraplane Blues' and 'If I Had Possession Over Judgement Day', showing that Robert's influence was still alive in his home territory.
Finally releasing an album of his own on the Rooster Records label in 1994, 'All Round Man' shows Lonnie living up to the billing, with 19 tracks of original music and fine cover versions of some classics. Lonnie's unique skills got him guest spots on albums by
Big Jack Johnson
, John Mellencamp, and the Gospel group The Star-Lite Singers, but wider public appreciation of Lonnie's work was limited to a few more Festival appearances in the South before he passed away from an AIDS related illness in 1998, at the age of 43.