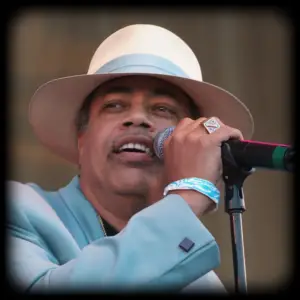 The 'Mississippi Saxophone' was the name given to the Blues harp when players in post-WWII Chicago, following the lead of Little Walter, started blowing their big, horn-like solos through a microphone. That broad juke-joint sound is alive today, and can be heard in the playing of younger men like Billy Branch, who learned first-hand from the Masters, and who often adds his strong vocal talents to the band he has been leading for nearly 40 years.
Billy Branch was born at Great Lakes north of Chicago in 1951, and when he was five his family relocated to Los Angeles, but he returned to study Political Science at the University of Illinois. Inspired by the tradition of Chicago Blues harp players and the example of men like
Big Walter 'Shakey' Horton
and
Junior Wells
who were playing regularly in town, Billy began 'sitting-in' at clubs. He was spotted by
Willie Dixon
, who recruited him to take over from
Carey Bell
when he left Willie's Chicago All-Stars to go solo. Billy also formed his own band, The Sons of Blues who, despite many personnel changes are still active today. The original line up included Carey's son, guitarist Lurie Bell and Willie's son Freddie on bass. Their 1982 debut album was called 'Chicago's Young Blues Generation' on the Evidence label, which also released their follow-up 'Where's My Money?'
Billy plays Little Walter's 'Juke' for a Festival audience;
In 1990, Billy was invited by
Alligator
Records to join veterans Junior Wells,
James Cotton
and Carey Bell on their 'Harp Attack' album, where Billy's showcase tune was his own 'New Kid on the Block', which was highly appropriate in such company, even though he was 38 at the time! Billy's talent for compressing the theme of a tune into a coherent and expressive harp line made him the 'go-to session man' in the recording studios of Chicago, and he worked with
'Honeyboy' Edwards
,
Koko Taylor
,
Taj Mahal
,
Johnny Winter
and many more. He got deeply involved in the Blues for Schools project of the Blues Foundation and also sits on the Grammy Blues Committee.
Billy found time to record an album every two or three years for a while, including a fine acoustic set with Kenny Neal, and became a firm favourite on the Festival circuit, developing a loyal following in Europe. Billy and The SoBs broke a ten year recording silence in 2014 with their album 'Blues Shock' and, like a fine wine, Billy's playing has matured with a tasteful and satisfying warm glow.