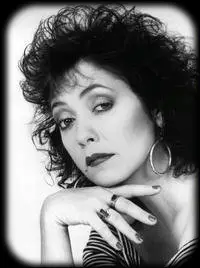 Lou Ann Barton is a sassy Texas Blues singer who belts out her roadhouse Blues with a passion that should have made her much more well known. A legend on the Austin music scene, she knows how to put on a show and her distinctive, full-bodied voice and her commanding stage presence makes Lou Ann a compelling live performer.
Born in Fort Worth in 1954, Lou Ann moved to Austin in the mid-70s and hooked up with Kim Wilson and Jimmie Vaughan in the Fabulous Thunderbirds. In 1975, after a spell in WC Clark's Blues Revue, she joined Jimmie's little brother Stevie Ray in Triple Threat, who built up a big reputation on the Austin scene. After three years fronting this outfit and the unreleased 'Nashville' album recorded in someone's bedroom (!), Lou Ann left to begin a solo career, and Stevie Ray took up vocals in Double Trouble.

Lou Ann joined the East-coast jump-blues outfit, Roomful of Blues for a while and her solo venture finally got going when she went to Muscle Shoals Sounds Studios in 1982, where
Jerry Wexler
produced her 'Old Enough' album. It sold well locally, but did not make the national charts. Lou Ann next effort was the self-produced 'Forbidden Tones' in 1986, which was much more pop oriented, containing covers of Beatles and Mink deVille songs. This bid for AOR exposure was not a success, despite Lou Ann's excellent vocals.
Lou Ann and SRV from that bedroom album.

When Lou Ann got Jimmie Vaughan and Kim Wilson on board for the 'Read My Lips' album in 1989, she reverted to the roadhouse Blues that had made her famous around Austin. This showed Lou Ann in great form, and when she signed for the Austin based Antone's label in 1990, her first release was 'Dreams Come True' with Angela Strehli and Marcia Ball. This album had all three Texas Blues women fronting the same band, led by Dr. John, Jimmie Vaughan and sax legend David 'Fathead' Newman, and Lou Ann also joined Jimmie in a re-formed Double Trouble. Antone's had the good sense to re-issue 'Old Enough' on CD, but Lou Ann has not been a prolific recording artist since then, issuing only three more solo albums over the years.
Lou Ann's thousands of live performances have always been very classy, whether fronting her own band or joining old friends like Jimmie Vaughan or WC Clark. Lou Ann has appeared at Blues Festivals around Texas, and appeared and recorded with Jimmie many times over the years, touring Europe and pounding the club circuit with his Tilt-a-Whirl Band.
Recent video of Lou Ann and Jimmie with a Slim Harpo cover;