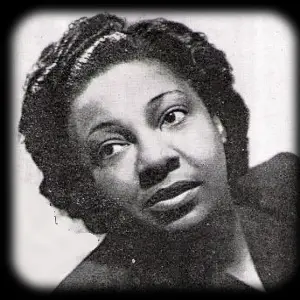 Monette Moore was a talented theatre pianist with a good voice, who was picked up by 'Ink' Williams' Paramount label and persuaded to sing the Blues on record. Like many Blues Divas during the expansion of 'Race Music' in the early 20s, Monette was one of the many vaudeville singers who took up the Blues to get into recording, in order to further their  careers.. More heartfelt performers like Ma Rainey, Ida Cox and Bessie Smith  came along at that time too, but unlike some of the more lightweight 'Blues Divas', Monette had a convincing voice and presence, and she was still singing the Blues in the 60s.
Born in Gainesville, Texas in 1902 and raised in Kansas City, Monette was a self-taught pianist who made a living as a teenager playing in the local theatre. Her light, pleasant voice got her noticed and she moved to New York in 1923 where she signed a recording deal with Paramount. During a four year contract she cut 44 tracks, plus several under the name Susie Smith, which sold reasonably well without making her a star. Her popularity meant she made theatre tours of major cities like Dallas and
Chicago
, and as her solo career slowed, she sang in front of Charlie Johnson's Paradise Ten. During 1927-28, they cut several records and enjoyed a residency at Small's Paradise. As record sales tanked in the Depression, Monette managed to survive with club and theatre work, and she recorded some duets with Fats Waller in 1932 and cut another session in 1936.
'Black Sheep Blues' with The Choo Choo Jazzers;
Monette moved to LA in 1942, where she worked the small but growing
West Coast
circuit. She cut further sessions in 1945 and '47 but again she did not trouble the charts. Her last couple of years were spent working at Disneyland, where she sang Jazz and Blues standards in front of a band called  The Young Men of New Orleans on the Mark Twain Riverboat Experience. Monette expired from a heart attack at home in 1962.
Monette shares the stage with 'Satchmo' on the Mark Twain show;