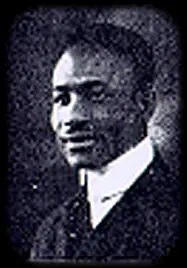 Brown University Graduate J Mayo 'Ink' Williams is the only man to be inducted into both the National Football Hall of Fame and the Blues Hall of Fame. As well as being one of the first Black pro-footballers, playing for a Chicago team in the first season of the NFL, he is also remembered as a pioneering record producer in the era of 'Race Records', when African-American musicians began to make records. 'Ink' made his reputation as the man responsible for attracting a wide range of original talent to the Paramount label, and got that nick-name for his persuasive way with a contract, which always seemed to pay off in his favour. In 1924, 'Ink' produced Papa Charlie Jackson's 'Lawdy, Lawdy Blues', which was the first successful Blues record made by a Black man.
'Ink' went on to produce records by
Blind Lemon Jefferson
,
Ma Rainey
,
Tampa Red
,
Blind Blake
,
Georgia Tom Dorsey
and
Ida Cox
. In 1927, 'Ink' launched his own Black Patti label with artists like
'Half-Pint' Jaxon,
Cow Cow Davenport
and
The Down Home Boys
, but the venture did not show a profit. Within a year 'Ink' had joined Vocalion, where he recorded big hits for 
Leroy Carr
,
Pinetop Smith
and many others, but record sales 'fell off a cliff' after the Crash of '29. As head of 'Race Records' for Decca in 1934, 'Ink' spent ten years signing a dazzling galaxy of stars such as
Alberta Hunter
,
Blind Boy Fuller
,
Roosevelt Sykes
,
Sleepy John Estes
and
Sister Rosetta Tharpe
. After WWII he ran a series of independent labels in New York and Chicago, and his Ebony label was the first to record
Muddy Waters
, but 'Ink' didn't offer him a deal. J Mayo Williams remained active in the music industry until the late 70s.