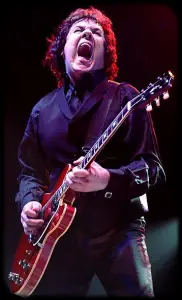 Gary Moore had the technical skills and compositional flair to put him in the top rank of Blues-rock guitarists. He could capture the emotional essence of a tune and express it with an artistry that often left audiences open-mouthed in wonder. Like many of the finest Blues players, Gary was called before his time, but he left a legacy of outstanding records, exciting collaborations and unforgettable concerts.
Born in Belfast, Northern Ireland in 1952, Gary was given a guitar when he was eight years old, and although naturally left-handed, he learned to play right-handed. One of his first gigs was at the Maritime Club, supporting Rory Gallagher.When the family moved to Dublin, Gary went to concerts by Jimi Hendrix and Fleetwood Mac, and soon Gary joined Phil Lynott in a band called Skid Row, but after a few gigs Phil left to form Thin Lizzy.

Skid Row opened a gig for Fleetwood Mac in Dublin, and Peter Green was so impressed with Gary's ability, he helped the band to get a record deal. Peter became a mentor to the young man, and he loaned and eventually sold Gary his '59 Gibson
Les Paul
, which became his signature instrument. Skid Row released several singles and albums, and toured Europe and the USA, but with no sign of commercial success, they disbanded and went their separate ways.
A little payback to the mentor (check out that solo!);
Gary took on vocals when he formed a power trio in 1973, but the following year he joined his friend Phil Lynott in Thin Lizzy. Gary spent the rest of the 70s in and out of the band, appearing on several albums and tours, but he was in high demand as a session player, and cut a fine album with jazz-fusion outfit, Colosseum II. Gary became a full member of Thin Lizzy again in 1978, but despite another great album, he quit the band half-way through an American tour. A hit UK single with Phil, 'Parisienne Walkways' in 1979 was taken from Gary's album 'Back on the Streets', and this marked the beginning of a serious solo career. The 1980s saw Gary twice move briefly to America and produce seven albums of rock/metal/pop music, but no hit records. In 1990, relieved of the pressure of trying to make a rock hit, his album 'Still Got the Blues' began to establish Gary as a force in the music. The follow-up 'After Hours' featured guest spots by BB King, Albert King and Albert Collins, which itself speaks volumes for the quality of Gary's playing. In 1994, he joined up with Jack Bruce and Ginger Baker on the BBM album, and the following year he cut the 'Blues for Greeny' album, entirely composed of his old mentor's tunes. The power, phrasing and tonal control Gary displayed on his finest work during the 90s was a huge influence on young players coming through at that time, including a kid called Joe Bonamassa.
Gary Moore and BB King share the stage in 1993;
After a couple more experimental albums, Gary went 'Back to the Blues' in 2001, before switching direction again by fronting the power-rock trio Scars, who were filmed in fine form at the 'Monsters of Rock' Festival in 2003. Although never a star in the USA, Gary was hugely popular in Europe, especially as a live act, often stunning a huge arena into awe-struck silence with the passion of his playing. Towards the end of the decade, Gary would go on tour with a band of excellent musicians to show off the products of thirty years as a solo artist to audiences as widely spread as Russia and the Far East.
One last time;
Sadly, in 2011, Gary died from a heart attack while on holiday in Spain, after consuming an enormous quantity of alcohol.