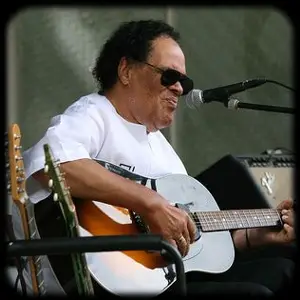 Louisiana Red was an extraordinary character. A huge man with a slow, deliberate manner, he was a brilliant songwriter who used the tragedies of his own experience to produce a vivid, visceral Blues. His technique on slide-guitar harked back to the Delta, but he played harp and finger-style electric guitar too, and often moved himself to tears with his passionate vocal delivery. It is surprising that he was not better known, as he performed almost continuously for more than fifty years and played with a host of legendary figures. Red released no less than fifty albums, as well as making countless guest recordings with his admirers. He was awarded a Grammy, and won a shower of awards in the last years of his life.
Born in rural Alabama in 1932, Iverson Minter's mother died when he was a few days old and when he was nine, his father was lynched by the Ku Klux Klan. His grandmother got him a guitar from a hock shop, and he would sing and play for change on streetcorners, and also learned Blues harp. He moved around some relatives' homes, before heading north as a teenager, eventually ending up in Chicago where he recorded for the Checker label in 1949. For most of the 50s he was in the armed services, but by the end of the decade he was in John Lee Hooker's Detroit band performing as Louisiana Red. His first solo album, 'Lowdown Back Porch Blues' was issued in 1963 and sold well, prompting a follow-up album the same year. As well as interpreting some Blues classics, Red wrote chilling Blues songs based on his own life, delivered with a soulful voice and acoustic slide-guitar technique that spoke of the origins of the Blues, back in the  Delta. He was always at his best performing alone so he could exploit his excentric sense of timing with utter freedom. It is strange that Red went almost un-noticed in the sixties Blues boom, but perhaps he was too young to be thought an authentic country Bluesman when seen alongside Skip James, Son House and their like.
'Sweet Blood Call'. Not for the faint-hearted!
Red didn't record again until 1970, and he put out five albums in that decade. 'Sweet Blood Call' in 1975 was a particularly fine album, with a hard-edged title track and a desperate song about the death of Red's young wife, and the sessions he cut with
Lefty Dizz
in 1976, later issued as 'Walked All Night Long', were outstanding in their emotional intensity. The Blues had entered one of its slow periods in America, making it difficult to make an impact, although when Red travelled to Europe he was very well received. This prompted a move to Hamburg Germany around 1980, and he lived there for the rest of his life. This was a highly productive phase in Red's career, especially in mainland Europe, as he toured continually and released twelve albums in six years. He won a
WC Handy
Award in 1983, and played and recorded many times in The States, so he did not ignore his homeland, but he made a good living on the club and Festival circuit as interest in his brand of painfully personal Blues found a new audience. Europe made a mark on Red too, as he recorded an album 'Blues Meets Rembetika' with Greek bouzouki player Vamvakaris in 1994. In his last decade, Red issued ten albums, including 'Different Shade of Red' recorded with Levon Helm and Garth Hudson at their Woodstock studio.
In a career that stretched from the first days of
Chess Studios
to the modern era, Red played with so many Blues legends it not possible to name them. In 2010 he won two Blues Music Awards, for Album and Artist of the Year, and when Red passed away in 2012, just before his 80
th
Birthday, he was still pursuing a busy touring schedule.