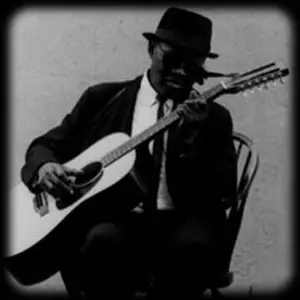 The Folk/Blues revival of the 50s brought many original Blues players to prominence, from old field hands like Mississippi John Hurt and Skip James, to mad characters like Furry Lewis and hidden treasures like Libba Cotten, but perhaps the most influential of all was Rev. Gary Davis. This gruff old 'guitar evangelist' had a fantastic touch on the guitar, a sublime harp tone and a repertoire of sacred and secular songs that would run to several volumes.

Gary Davis was born in Larens SC in 1896, but little is known about his early life. There are stories about all seven of his siblings dying before adulthood; his father being shot by the High Sheriff of Birmingham; his mother giving him up to the care of his paternal grandmother; and that he was born blind or lost his sight in infancy. In any case, before WWI he was to be found playing harp on the streets of Larens, and his guitar and banjo playing got him hired for parties and fish-fries. The family moved to Greenville where Gary would have heard the guitar playing of local men Willie Walker and Sam Brooks. By the mid-20s, Gary had moved to Durham, where work in the tobacco industry meant that people had money to spend, and he met
Blind Boy Fuller
who was among several local musicians who were playing a stylish, ragtime-influenced Blues. Gary honed his fingerpicking technique using just thumb and index finger, drawing heavily on the work of
Blind Blake
and
Blind Lemon Jefferson
, and was considered the best player on the block, with a sack-full of ragtime, folk and popular songs and country tunes.
'I Am the Light of the World', says the Rev. Gary;
Gary's skills clearly influenced Fuller's playing and when manager JD Long arranged for Fuller to record for ARC in New York, Gary and washboard player George Washington (Bull City Red) went along too. They all played on Fuller's records, which sold very well, but a dispute with JD Long over money meant that Gary would not record again for two decades. In 1937, Gary was ordained as a Minister in the Baptist church and his repertoire, which already contained many Gospel-Blues songs, was mainly sacred music from that time on. In 1940 he moved to New York where there was an expanding group of Piedmont musicians like Sonny Terry and Brownie McGhee and Josh White in bohemian Greenwich Village, and Rev. Gary lived there for the rest of his life.
The Folk/Blues revival of the mid-50s saw Rev. Gary busy in the studio, firstly with a few tracks for small labels like Stinson and Riverside, and then Moses Asch cut a full album for Smithsonian in 1956. Rev. Gary's 1959 appearance at the Newport Festival, and its live album, exposed this old-time 'guitar evangelist' to a big new audience, as his sermonising, his gravel-voiced singing and his virtuoso guitar picking put Gospel-Blues on the map. Several studio albums followed, with Hellfire songs like 'Death Don't Have No Mercy' and 'Samson and Delilah', a re-working of Blind Willie Johnson's 'If I Had My Way, I'd Tear That Building Down'. On the other hand, joyous tunes like 'Sit Down by the River' and 'I'll Fly Away' had an exultant Rev. Gary making his guitar "sound like a happy organ". Secular songs like 'Cocaine Blues', 'Candy Man', 'Maple St. Rag' and 'Soldier's Drill' showed that he was able to venture outside his comfort zone.
Take a few minutes and let the Reverend entertain you;
Rev. Gary was a master of the 6-string Jumbo and 12-string guitar, but he also showed excellent style on the banjo, harp and even piano on a long series of recordings in the 60s. Credited with profoundly affecting Bob Dylan, he personally tutored several future stars of acoustic music, like Stefan Grossman and
Jorma Kaukonen
. Rev. Gary's legacy can also be heard in the work of
Dave Van Ronk
,
Ry Cooder
,
Eric Bibb
and countless others. The Rev. went to meet his maker on May 5th 1972.