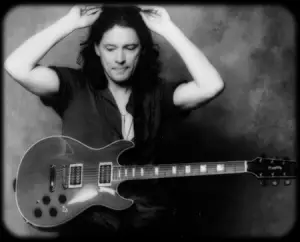 Robben Ford is a multi-talented guitarist whose Blues sensibilities are overwritten with a true jazz player's curiosity and inventiveness. Robben was born in California in 1951 and took up the sax as a kid, but switched to guitar when he was 14. He was a big Paul Butterfield fan so it was no surprise when he set up the Charles Ford Blues band in San Francisco with his brother Pat, and named it after their father, a country musician. In 1970, they were recruited by Charlie Musselwhite and recorded the 'Taking My Time' album with the renowned Chicago harp player on the Arhoolie label. After a year they went back to performing as the Ford band, with brother Mark on harp, but soon Robben took a sabbatical with Jimmy Witherspoon and from 1974 he was recruited Tom Scott's LA Express, a cool, jazz-funk instrumental band. Robben was also in great demand as a session player, and appeared on three Joni Mitchell albums and at many concerts, before the urge to do his own thing became too strong to resist.
[div class="myadds"]
[/div]
Robben plays 'Nothing to Nobody' at a recent gig;
[weaver_youtube http://youtu.be/7qPPECLhbjQ id=videoid sd=0 percent=100 ratio=0.5625 center=1 rel=1 https=0 privacy=0]
[stextbox id="custom" caption="Robben Ford Discography" float="true" align="left" width="300″]At the risk of sounding like a promo, I think this as as good as anything Robben has done. Only one self-written song however, as he takes on some great old tunes and adds some tremendous guitar licks.
BRINGING IT BACK HOME
[/stextbox]In 1977, he cut the 'Inside Story' album with his own band, which became known as The Yellowjackets and continues beyond Robben's departure in 1983. Miles Davis came calling, and Robben spent six months in New York before leaving to attend to recording commitments. His 'Talk to Your Daughters' album, recorded with a stellar cast of session players, had some great Blues guitar licks and Robben really took up the baton in 1992 when he formed The Blue Line, a trio that allowed him to explore his modern guitar Blues on the aptly named Stretch label. After eight years and three albums including the instrumental 'Tiger Walk' and 'Supernatural' with many of Robben's own songs, he moved on to the Jazz imprint, Concord. Here he has issued another four albums in ten years, interpreting sixties classics and pursuing his songwriting, and Robben has continued to collaborate with many fine musicians, including his wife Anne. His latest project, Renegade Creation, is a four-piece rock band that put out the album 'Bullet' in May 2012, but on his 2013 album,'Bringing It Home', he revisits his Blues roots.