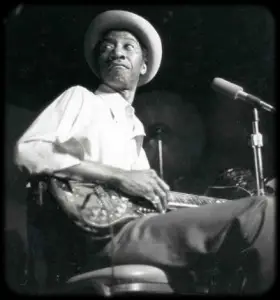 Theodore Roosevelt Taylor learned his slide-guitar around his native Natchez MS, playing at parties and juke-joints. He was already 20 when he learned to play and a few appearances on the King Biscuit Time radio show convinced Hound Dog to try his luck in Chicago. He relocated there in 1942, and played part-time around the club scene for many years, basing his slide-guitar style on the distorted Elmore James sound, but with even more drive and energy if that were possible! He was playing full-time by 1957, but did not record except for a few tracks at various points in the 60s, all of which sank without trace.
In 1971, Bruce Iglauer was so enthused by Hound Dog's act, he set up Alligator Records specifically to get the music out there, because
Bob Koester
's Delmark label was going through changes and unable to handle it. A couple of studio sessions resulted in 'Hound Dog Taylor and the House Rockers' and the debut release for the band and the label was a huge success, with the resulting sales quickly establishing Alligator and Hound Dog's reputations beyond Chicago. Hound Dog, with his drummer Ted Harvey and second guitarist
Brewer Phillips
, punched well above their weight as they rocked the house at their residency at Florence's Club, where many great Blues players would come and sit in.
'Give Me Back My Wig' from the first album;
A second album, 'Natural Boogie' was a more considered but no less exciting offering, and gigs and Festival dates poured in. Sadly, Hound Dog was diagnosed with cancer, and he was gone before the live album 'Beware of the Dog' came out. Some posthumous releases by Alligator show just how much music Hound Dog had in him, and he was an obvious influence on hard rocking Blues bands like
George Thorogood
and the Destroyers.
Stevie Ray Vaughan
's version of Hound Dog's 'Give Me Back My Wig' is a huge tribute in itself, and
JB Hutto
kept his idol's flame burning for a while by fronting a band with Ted and Brewer after the Hound went to the great Dog House in the sky.