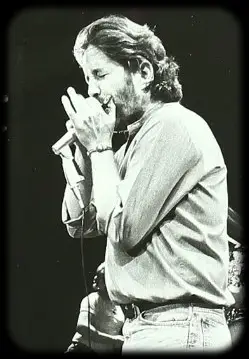 Nobody knows how a 15-year-old middle class white kid got into the Blues clubs on the South side of Chicago in 1957, but that is where Paul Butterfield met the Blues head-on. He was learning to play the flute at school, but what he heard in those smoky dives inspired him to switch to harmonica and play the Blues.
When Paul went to the University of Illinois he met guitarist and fellow Blues fan Elvin Bishop. In 1963 they hired Howlin' Wolf's rhythm section, bassist Jerome Arnold and drummer Sam Lay, and began making a name for themselves on the local Blues scene, where the two front men were often the only white faces in the club.

They were signed to Electra Records, and with the addition of lead guitar player
Mike Bloomfield
they released their debut album in 1965. This loose-limbed celebration of
Chicago Blues
was an intense and passionate affair, with Butterfield's harp dictating the mood. White American rock fans had heard British bands like
The Stones
and
The Animals
playing the Blues, but hearing a multi-racial band from Chicago pounding out these powerful songs inspired fans to look at the roots of this music. When young fans looked at where this music came from, players like
Muddy Waters
,
John Lee Hooker
and the
Three Kings
,
BB
,  
Albert
and
Freddie
, found a big new audience
'Blues With a Feeling' from Paul's first album;
The Paul Butterfield Blues Band played the Newport Folk Festival that summer and jammed at a workshopping session with Bob Dylan, who recruited the band to play part of his set later that evening. That show was booed by the folk purists, but it was Dylan's electric debut, and helped to kick-start the folk/rock genre. 1966 brought a change of direction for Butterfield's band too, with the influential 'East/West' album. Sam Lay was in poor health, so jazzy whizz-kid Billy Davenport took over on drums. A growing interest in Eastern music inspired the 13-minute title track, an instrumental suite fusing jazz, blues and the Indian 'raga' form. This ground-breaking record opened the door to a world of experimental music and might be considered the first acid-jazz album.
The Woodstock Festival took Paul's blues harp to the world;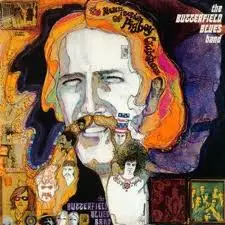 Mike Bloomfield left in 1967 to form 'Electric Flag', so Elvin Bishop played lead guitar on 'The Resurrection of Pigboy Crabshaw', with a radically changed line-up including a horn section. Although the album was a critical and commercial success, the band seemed to lose focus at this point. That said, they performed heroically at the Woodstock Festival and Butterfield himself took part in an all-star session with Muddy Waters called 'Fathers and Sons'. A brief retirement saw Bloomfield working on the soundtrack to the hit film 'Steelyard Blues', and by 1972 he returned with a new band and an album, both called 'Better Days'. In 1975 he performed with Muddy Waters again on The Woodstock Album, the last ever release on the Chess label, and later performed at The Band's farewell concert, immortalised in the Scorsese film, The Last Waltz.
The following years were not kind to Paul Butterfield. Although he was in demand for session work, his solo career floundered and his health deteriorated. Years of heavy drinking, painful peritonitis and a heroin addiction that may have been his way of self-medicating his pain, all combined to bring about a slow decline. Paul moved to California and in 1986 he released his solo album, 'The Legendary Paul Butterfield Rides Again', but the following year he died from a drug overdose in Hollywood.