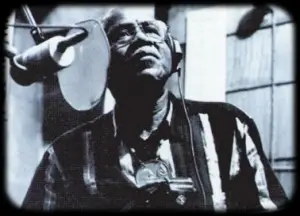 The Staple Singers were a big soul act in the 60s and 70s with their inspiring gospel-flavoured sound, but their patriarch Roebuck Staples was an old-fashioned Blues player who bridged the worlds of the Delta and deep urban funk, and went back to his roots with a late-blooming solo career.
Born in Winona MS in 1915, Roebuck was the youngest of 14 children in a poor farming family that would all sing together at the end of the day, as that was just about the only entertainment they had. Roebuck was exposed to the Blues early in his life, as the family lived only a short distance from the Dockery Plantation and he would have heard the founding fathers of Delta Blues playing at local events. He bought a $5 guitar on installments, and when he befriended Charley Patton, he picked up a classic Blues technique. Roebuck played with Son House, the young Robert Johnson and many others who passed through the Clarksdale area.

Roebuck met and married his wife Oceola; they relocated to Chicago and soon had four kids; Cleotha (b.1934), Pervis (b.1935), Yvonne (b.1936) and Mavis (b.1939). Roebuck joined the Trumpet Jubilee Singers while working hard to support the family, and formed the Staple Singers in 1948 with his children, to sing in local churches. They attracted the attention of United Records in 1952, and recorded for a variety of labels in the 50s. They had hits with 'Uncloudy Day' and 'Will the Circle be Unbroken?' with their gospel harmonies backed by Pops' downhome guitar. After signing for Epic in 1965, they began to cross into a more popular market with 'Why (am I treated so bad)?' and Steve Stills', 'For What It's Worth'.
The familiar sound of The Staple Singers;
When they moved to the Stax label in 1968 their career really took off, as their righteous sound chimed with the ethos of the Civil Rights movement. 'Respect Yourself' made Number 2 in the R&B charts and 12 in the Hot 100. and 'I'll Take You There' was Number 1 in both. Roebuck also recorded a fine solo album for Stax with fellow Blues guitarists Albert King and Steve Cropper. When Stax folded in 1975, the Staple Singers moved to Curtis Mayfield's label and hit the top of the Hot 100 with 'Let's Do It Again'. In 1976 they appeared in Martin Scorsese's film 'The Last Waltz', documenting The Band's farewell concert. Always popular as a live act, the Staple Singers recorded several albums that sold steadily until their 1984 release 'Turning Point' which caught them on top form and found them in the charts again.
'Pops' had a warm, smooth vocal tone;
Mavis Staples embarked on a solo career in the 80s, working with Prince and exploring her gospel roots. Roebuck took the same decision and cut 'Peace to the Neighborhood' in 1992 with his soulful voice, assured guitar work and contributions from
Bonnie Raitt
and
Ry Cooder
. Two years later he recorded 'Father, Father', which won a Grammy for Best Contemporary Blues Album, performed in the Talking Heads film 'True Stories' and also made a cameo appearance in the film 'Wag the Dog'.
Roebuck 'Pops' Staples suffered a concussion after a fall near his home, and he passed away in Chicago on December 19th 2000, a few days short of his 85th birthday.