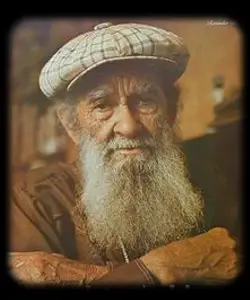 When Sam Chatmon was 're-discovered' during the Folk/Blues revival around 1960, musicologists found they had a true original on their hands.
Sporting a wild grey beard, Sam had been playing and singing since he was a child, and his repertoire of old Blues, especially the raunchy songs that celebrated the Delta Blues in their heyday, opened a window on another world.
With his brothers Lonnie on fiddle and Arminter (a.k.a. Bo Carter) on guitar, the multi-instrumentalist Sam Chatmon played and sang in the family string-band in the years before WWI.
They built up quite a reputation around the Delta playing folk-songs, ballads and dance music, and they were often invited to play for white audiences. In the 20s, as the Blues began to gain popularity beyond the Delta region, the brothers began to perform as The Mississippi Sheiks, with Walter Vinson joining in 1928.
They would play at dances, parties and juke-joints where the other attractions were bootleg liquor, gambling and women, and this was reflected in their songs which were steeped in sexual references and 'double-entendre'.
The Mississippi Sheiks million seller;
The Sheiks recorded for the Okeh label in 1930 and their first release, 'Sitting on Top of the World' was a massive, million-selling crossover hit.
As the depression years went on however, record sales never approached those numbers, and The Sheiks other big hit 'Stop and Listen' only sold in the tens of thousands.
When they made their last recordings for Bluebird in 1935, The Sheiks had cut more than 70 tracks.
Sam and Lonnie also recorded as The Chatmon Brothers, and Arminter had a solo career as 'Bo Carter', specialising in extremely bawdy songs.
Recommended Album
The Mississippi Sheiks material has all been re-issued, but this album puts Sam in the spotlight and it sounds much better too.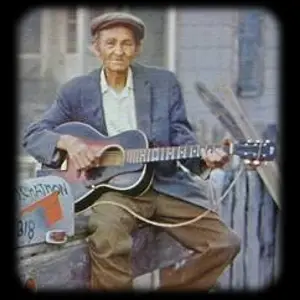 Sam's strong, distinctive voice and his abilities on guitar, banjo, mandolin, bass and harp meant he would accompany himself as he spent a few years drifting round the South as a wandering Bluesman.
He played the juke-joints, work camps and on street-corners, sometimes joining a travelling Minstrel Show or a Medicine Show, until he finally settled in Hollandale MS in 1940.
When Sam was 'rediscovered' and signed for the Arhoolie label in 1960, he still had all his musical skills, but he had not performed outside his home town in two decades.
Alan Lomax recorded Sam at his home in 1978;
Sam played for 20 years in Clubs, theatres and at Festivals all over the country and appeared on several record labels.
He recorded a few albums at his own home in Hollandale, then with a small band known as The Barbecue Boys, and then with Walter Vinson as The New Mississippi Sheiks.
When Sam passed away at the age of 86, his headstone- paid for by Bonnie Raitt and the Mount Zion Memorial Fund- was inscribed 'Sitting on Top of the World'.