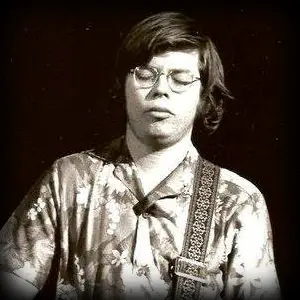 Al Wilson played harp and guitar for the great white American Blues band, Canned Heat, from it's formation in 1965 to his untimely death in 1970. As an instrumentalist, singer and lyricist, he was a cornerstone of the band; as a student of the Blues, he was a respected researcher who was part of a team that 're-discovered' several forgotten Blues players; as a music writer, he was a regular contributor to a Boston newspaper, and as a harp player, he was sublime. When they made an album together, John Lee Hooker rated Al as one of the best harp players he had ever heard, which is high praise indeed.
Alan Christie Wilson was born in 1943 in Boston Mass. and grew up in Arlington. He was extremely shortsighted and this gave him his nick-name of 'Blind Owl' as he played guitar on the coffee-house scene around Boston. As a high school student, Al was interested in the Folk-Blues revival, and the high, light voice of
Skip James
's early recordings were a model for his own vocal style. Studying music at Boston University, Al began to research and write about early Blues players, and he joined a team of young enthusiasts in trying to track down some of these old guys who were mostly living in obscurity. When Al's friends found
Son House
living in Rochester NY in 1964, he had not picked up a guitar in decades, so Al's superb knowledge of archaic styles helped him to "teach Son House how to play like Son House", according to
John Hammond Sr
.  Al contributed guitar to Son House's first 'new' album, and again on his '1970 London Sessions', and his deep knowledge of old Blues also helped when his friend
John Fahey
needed to complete his college thesis on
Charley Patton
.
'Goin' Up the Country' comes from Al's heart;
Another young researcher, Bob Hite, formed a jug band with Al, which became Canned Heat when Henry Vestine and others joined. Johnny Otis recorded the band in 1966, but those sessions remained unreleased until 1970. In 1967 Canned Heat recorded their first album of old Blues covers for Liberty, which showed in the Billboard charts. Later that year they played the Monterey Festival, and Pennebaker's documentary film includes a great version of 'Rollin' and Tumblin', which shows Al's guitar work with Vestine and his exquisite harp establishing that white boys can play the Blues if it comes from the heart. Their second album, 'Boogie with Canned Heat', included the worldwide hit, 'On the Road Again' and they toured Europe where the record reached No.1 almost everywhere. Another album 'Living the Blues' followed quickly, and the single 'Goin' Up the Country' was another worldwide hit. This song also reflected Al's concern with the environment: he was a passionate student of botany and ecology, often sleeping under the stars and contributing to groups protecting redwood trees and other wonders of nature. His essay 'Grim Harvest' formed the liner notes to the 1970 album 'Future Blues'.
Blues workout with Canned Heat
Canned Heat had performed a storming set at Woodstock, and 'Goin' Up the Country' became the Festival's unofficial theme. When 'Future Blues' was issued it contained five original songs, piano contributions from Dr. John, and another hit single, Wilbert Harrison's 'Let's Work Together'. Later in 1970, John Lee Hooker cut an album with Al and other members of Canned Heat which was issued in 1971 as 'Hooker and Heat'. John Lee was very complimentary about Al's harp playing and his ability to sense the unpredictable Hooker timing.
Shortly after these sessions Al was found dead from barbiturate poisoning in the woods near Topanga. It is believed that this sad event was the result of Al's long term struggle with depression, centring on personal and ecological worries. Weeks after the loss of
Janis
, and two weeks before
Jimi
, the '27 Club' of superbly talented musicians gained another member.