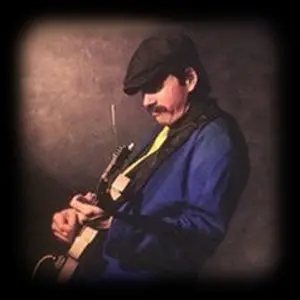 Searing slide-guitar and howling electrified harp are the hallmarks of Chicago Blues, and Studebaker John is a home-town boy who is taking that tradition into the future. Inspired by Hound Dog Taylor and JB Hutto, John can thrash out a boogie while playing a lead-guitar line on top; he has a light but penetrating voice; he writes great songs, and his tone on the 'Mississippi Saxophone' has a spacious feel, reminiscent of 'Shakey' Horton.
John Grimaldi was born in
Chicago
in 1952, and because his Dad was an amateur musician, there were instruments in the house as he was growing up. As a result, John was playing harp by the time he was 7, and he began hanging around Maxwell Street as a teenager, where he heard a lot of Blues and earned some tips. In the late 60s, Hound Dog Taylor was very active on the Chicago scene, and John was so inspired by his show, he took up guitar and modelled his playing on the Hound Dog's energetic style. When John formed his own band, they were billed as Studebaker John and the Hawks, named for a car that John owned (and still does!) with a nod in the direction of JB Hutto and the Hawks, another inspirational band. John continued to work in the construction industry, but after the release of his first album 'Straight, No Chaser' in 1978, he began to tour more widely in the mid-West as well as the Chicago clubs, and released another album, 'Rockin' the Blues'.
Studebaker John blows some wild harp at Buddy's Legends;
In the late 80s, John recorded two albums for the Belgian Double Trouble label label and toured widely in Europe, where he found an enthusiastic audience for his hard-edged boogie. In 1991, he joined The Yardbirds and
The Pretty Things
on Demon Records 'Wine, Whisky and Women' and back in The States he signed for Blind Pig and began a series of five excellent albums, capturing the drive and vitality of his live show. In 2001, John's 'Howl with the Wolf', album explored some deep Chicago roots, but instead of playing covers, this self-written album uses some classic themes to voice modern concerns. This has been the trademark of John's work: traditional Blues forms energised by a contemporary outlook. Several films have used John's music in their soundtracks, and he continues to tour, and to release an album every couple of years. His latest effort, 'Kingsville Jukin', still has his long-time bass player Bob Halaj in the line-up, but the band are billed as The Maxwell Street KIngs. Full of new songs, it keeps one eye on the past, much like Studebaker John.