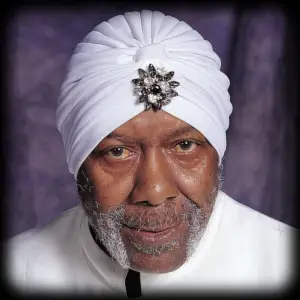 Sonny Rhodes, resplendent in his bejewelled turban, is famous for playing his own brand of Texas Blues on a lap-steel guitar. After a long apprenticeship on the club scene building up a following, both at home and in Europe, Sonny made his mark in the 90s with some great albums and Festival appearances. He continues to roam the world, playing his passionate, award-winning Blues to new generations of fans.
Clarence Edward Smith was born in Texas in 1940 into a sharecropping family in Smithville near Austin. The kid got a guitar for his Birthday when he was eight, and within a few years he was listening to a lot of
T-Bone Walker
and
BB King
, and getting serious about the Blues. He also heard the music of
Hop Wilson
, who played a distinctive Texas roadhouse Blues on a lap-steel guitar, which was to become Sonny's trademark instrument as his career took shape. His first teenage band was Clarence Smith and the Daylighters, who played bars and clubs in the Austin area in the mid-50s. After graduating from school, he joined the Navy and was based in California, but he also worked as an on-board DJ, earning a reputation for slipping in lewd jokes between the R&B records. When he came back to Texas, he made his first recording 'I'll Never Let You Go When Something's Wrong', and also took up bass guitar. He played bass behind his friend
Albert Collins
for a while and also backed 'The Texas Cannonball',
Freddie King
.
Rare archive performance from 1991, just having fun;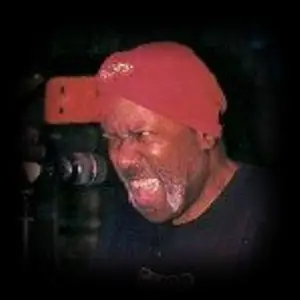 In 1963, Sonny took the Sunset Route to California, and after a couple of years playing around the West-coast, settled in Oakland, where he met LC 'Good Rockin' Robinson, who played lap-steel guitar. Sonny took to the instrument and used it to good effect when he recorded some singles for the local Galaxy label. Blues played on an instrument closely associated with Hawaiian and Country music was a difficult sell in the late-60s, and Sonny didn't see much success until he toured Europe in 1976. The new sound caught on, and Sonny recorded three albums over there; 'Don't Want My Blues Coloured Bright'; then a live set and, in 1980, the eccentric 'Forever and a Day' with the Paris Symphony Orchestra! Despite a lack of big sales, Sonny was a riveting performer. Ripping out blistering Blues licks on the lap-steel or standard guitar, his gruff voice and imaginative songwriting marked him out as a big talent and his stage presence, with his red turban and shiny suit, made him unforgettable.
Sonny keeps on rockin' with 'Black Cat Bone';
After releasing his 'Just Blues' album on his own label (re-issued on Evidence), Sonny signed for Ichiban Records in 1991. He produced two excellent albums for them, which brought him a lot of work in clubs and Festivals, and cemented his reputation as a man with a unique and intense take on the Blues. Two more good albums for the Kingsnake label were followed by two more for the Canadian outfit, Stony Plain. Sonny played the theme tune for the TV series 'Firefly' and he continued to tour in the new century, but when he broke his recording silence in 2009 with 'I'm Back Again', the trademark turban had been replaced by an elegant fedora. His performance at a European Festival in 2011 was released on DVD and it shows a man whose passion for the Blues is undiminished as he continues to tour the world.